Pulmonary & Critical Care Medicine Fellowship
The Pulmonary and Critical Care Fellowship at Cedars-Sinai aims to offer a comprehensive training program in an inclusive environment, dedicated to the pursuit of excellence in patient care and research that is tailored to an individual's career goals. Trainees are exposed to a multi-campus program with a diverse patient population, a wide variety of clinical issues and differing healthcare delivery systems. The program is structured to achieve medical knowledge, procedural skills and communication skills necessary to function as effective consultants. Our fellows complete their training prepared to embark upon the careers of their choosing.
Training & Curriculum
Our comprehensive curriculum incorporates multimodal training through clinical rotations at multiple sites, didactic sessions, hands-on bootcamps, as well as scholarly pursuits.
Application Information
Learn about the Pulmonary and Critical Care Medicine Fellowship application process, and view application instructions and requirements.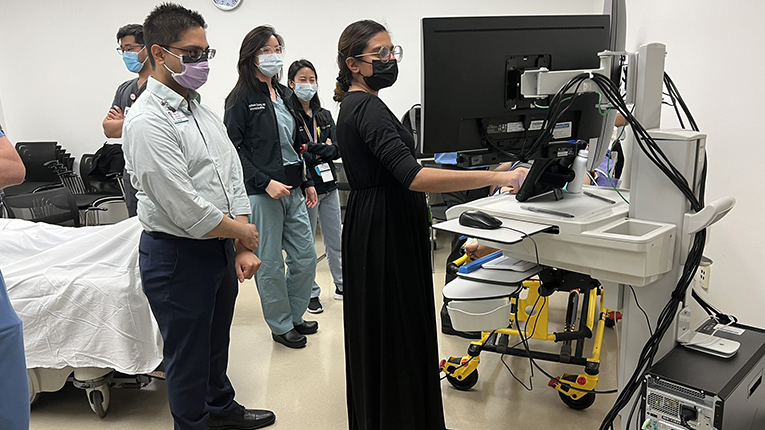 Faculty
Our highly talented and accomplished faculty members have a passion for education and training future leaders in pulmonary and critical care medicine.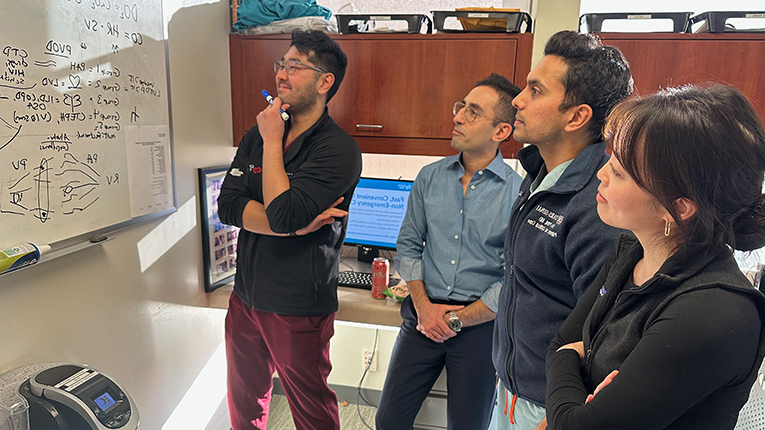 Fellows
We take pride in selecting a cohesive, diverse team of bright and promising fellows with wide areas of interest.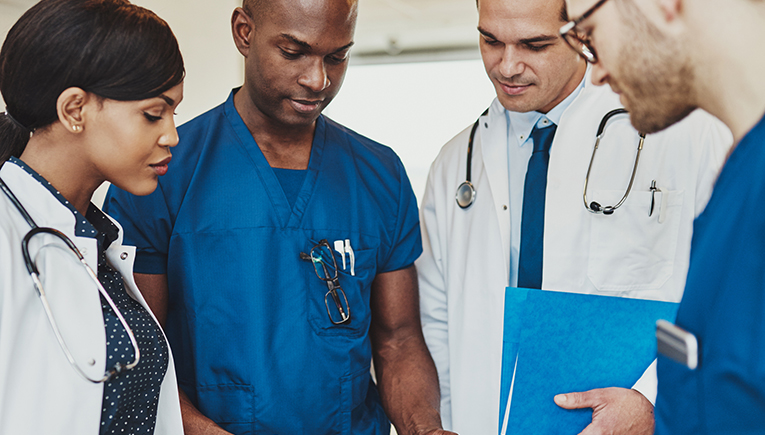 Graduates
Graduates from our program have moved on to successful careers throughout the Cedars-Sinai community and across well-established institutions all over the world.
I have truly enjoyed my training thus far at Cedars-Sinai. When I was applying for PCCM programs across the country, I was looking for programs with a true balance of pulmonary and critical care training, and Cedars-Sinai has demonstrated that for its fellows in both its training and teaching curriculum. The faculty here is made up of awesome people who also happen to be incredibly skilled clinicians in all facets of pulmonary and critical care medicine. If given the opportunity to again, I would absolutely elect to train here at Cedars-Sinai.
-Jordan Reese, class of 2022
I was a pulmonary/critical care fellow at Cedars-Sinai/Kaiser Permanente Los Angeles Medical Center from 2016-19. This fellowship program provided me with an incredibly comprehensive training experience and prepared me for a job in essentially any facet of pulmonary and critical care medicine. There is consistent exposure to a large breadth of pathology ranging from the simplest outpatient pulmonary issues to the nuances of advanced lung disease and lung transplantation, pulmonary vascular disease, ECMO management, advanced bronchoscopic techniques/interventions and management of complex and critically ill patients in a large transplant center. The faculty consists of dedicated mentors and teachers who prioritize fellow education and success. In addition to the vigorous clinical training, there are numerous clinical- and bench-based research opportunities in any area of particular interest. Fellowship was the best time of my life because my co-fellows and the faculty are truly what set this program apart. I am now back at Cedars-Sinai as a member of Cedars-Sinai Medical Group and happier than ever to be back in this community.
-Mariam Torossian, MD, class of 2019
There is incredible breath, diversity and acuity of clinical cases here, together with the rare opportunity to care for underserved patients in a high-resource quaternary hospital. The department truly feels like a close-knit community with approachable faculty and my co-fellows—who I know I can always call for help and are constantly making me laugh.
-Weijia Chua, MD, class of 2024
Our fellowship allows us to see how our field is practiced in two very unique settings, Cedars-Sinai and Kaiser Permanente Los Angeles Medical Center. By having these two sites, we get a broad range of clinical experiences, including access to very advanced and cutting-edge technology, as well as abundant procedural exposure. Our fellowship allows you to create your own path and mold the fellowship program according to your career aspirations.
-Fahim Pyarali, MD, class of 2023
Cedars-Sinai has been such a great place to train! My co-fellows are amazing people, incredibly smart and so fun to work with. The faculty members are super approachable and willing to help you with your career goals. The clinical and research opportunities are endless and accessible to us. Plus, L.A. is such a great city to live.
-Giuliana Cerro, MD, class of 2023, research fellow
The pulmonary and critical care fellowship program at Cedars-Sinai provided me with a unique opportunity to train in a state of the art hospital with compassionate attendings who are world renown in their fields. The training experience was unique as I had the opportunity to rotate through different health care systems and serve a wide variety of patients with conditions ranging from the esoteric to the common place and from different walks of life. Additionally, the institutional support I received to conduct clinic and translational research was phenomenal. In summary, I am thrilled with the fellowship training I received from Cedars-Sinai and as a result was able to step out as a new attending confident in my training and abilities.
-Chidinma Chima-Melton, MD, class of 2016

The Cedars-Sinai pulmonary and critical care fellowship was very comprehensive training. There was a wide variety of experiences from taking care of lung transplant patients, to doing the newest procedures such as navigational bronchs, to reading CPETs, to doing research. The fellowship really covers the full spectrum of pulmonary and critical care practice. The attendings are very helpful and they helped me get my current job. I felt well prepared for my current job and I think the fellowship was essential in helping me get my dream job at Kaiser!
-Lucy Lu, MD, class of 2016
The Cedars-Sinai Pulmonary-Critical Care fellowship prepared me with the clinical experience and knowledge to become a proficient clinician in the private sector. The skills I learned under the guidance of George Chaux, Jeremy Falk and Jaime Betancourt helped shape me into the clinician I am today. I am confident in my procedural skills as well as critical thinking, which is an integral part of being a pulmonary critical care physician. One interesting aspect of transitioning into an attending is that now I have to be my own biggest critic; the memories, clinical variety/exposure and experience completing this fellowship has prepared me for the variety of illnesses and presentations one may see throughout their career.
-Jared Intaphan, MD, class of 2016

---
As a Cedars-Sinai pulmonary and critical care fellow, you will have the opportunity to learn in some of the best-equipped outpatient, inpatient, procedural and research facilities in the world.
Have Questions or Need Help?
Contact us if you have questions or would like to learn more about the Fellowship at Cedars-Sinai.
8700 Beverly Blvd., Room 6735
Los Angeles, CA 90048