Frozen Section Rotation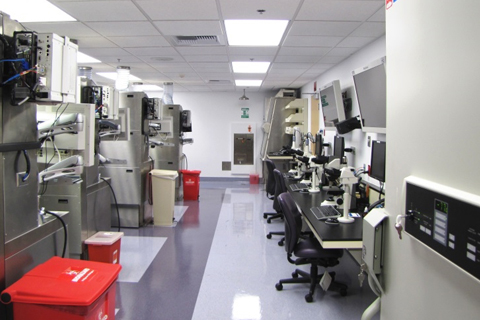 The goals of the frozen section rotation are to learn:
Tissue selection for frozen sections
Techniques in tissue sectioning and staining
Diagnoses
Appropriate tissue handling for special studies
Limitations of frozen section interpretation
Case Mix
Almost all neoplastic and some non-neoplastic entities in all organ systems are encountered during the frozen section rotation. Neurologic frozen sections are done by the resident during the neuropathology rotation.
Rotation Structure
Residents are responsible for frozen sections in the Intraoperative Consultation Suite (IOC) from 7:30 a.m. to 5 p.m. daily, after which the night-call resident takes over. Physician assistants are available in the IOC to assist with frozen section staining and technical issues.

Daily Schedule
Residents identify potential frozen sections from the operating room schedule the night before
Prior surgical specimens and relevant imaging studies are reviewed and slides obtained for potential comparison
Residents are available throughout the day for frozen sections, and are excused from select conferences

Have Questions or Need Help?
If you have questions or would like to learn more about the Anatomic and Clinical Pathology Residency Program at Cedars-Sinai, please call or send a message to Program Coordinator, Chau Nguyen.
Department of Pathology and Laboratory Medicine
8700 Beverly Blvd., Room 8709
Los Angeles, CA 90048-1804