Gynecologic Pathology Rotation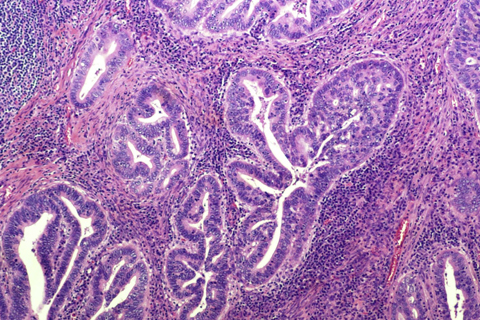 The goals of this rotation are for the resident to:
Learn the normal and abnormal morphology of tissues of the uterus, ovaries, fallopian tubes, vagina, vulva and the secondary mullerian system (peritoneum)
Apply tumor classifications and the elements of a comprehensive pathology report
Specimens come from the Hereditary Cancer Program, the Gynecology-Oncology Service associated with the Women's Cancer Program, and from community gynecologists.
Case Mix
Approximately 6,000 specimens annually, from the spectrum of processes seen in gynecologic pathology, including:
Developmental and genetic abnormalities
Ectopias
Hormone-related lesions
Infectious and inflammatory processes, and a variety of neoplasms

Rotation Structure
This month-long rotation provides exposure to gynecologic pathology through:
Daily involvement in the workup of cases
Examining and reviewing gross tissue specimens and histologic sections
Ordering appropriate special stains and molecular and cytogenetic studies
Constructing pathology reports, including synoptic reports for malignant neoplasms
Communicating with clinicians
Comprehensive glass-slide and digitized-study sets with extensive metadata covering all important lesions

Daily Schedule
This rotation is based on repetitions of a two-day cycle:
First day

Morning gynecologic specimen biopsy sign-out
Gross gynecologic specimens after morning sign-out is completed

Second day

Morning gynecologic biopsies sign-out
Afternoon surgical specimen sign-out of specimens prosected the prior day (same attending)
Review literature pertinent to signed-out cases, and review important gynecologic lesions in study sets
Subspecialty Conferences
Women's reproductive cancer pathology conference, every Tuesday
Women's Cancer Program tumor board, monthly
Samuel Oschin Comprehensive Cancer Institute gynecologic neoplasm conference, quarterly
Regional gynecologic pathology club, bimonthly September–June

Research Opportunities
There are many opportunities to become involved with clinical and/or translational research within pathology or in collaboration with the clinical programs in women's health.
Have Questions or Need Help?
If you have questions or would like to learn more about the Anatomic and Clinical Pathology Residency Program at Cedars-Sinai, please call or send a message to Program Coordinator, Chau Nguyen.
Department of Pathology and Laboratory Medicine
8700 Beverly Blvd., Room 8709
Los Angeles, CA 90048-1804