Neuropathology Rotation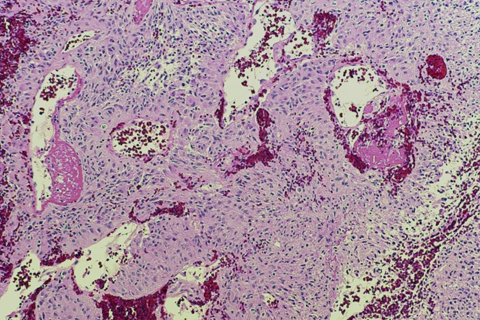 The main goals of this rotation are:
To recognize neoplastic, non-tumorous and low-grade neuropathologic lesions and potential misdiagnosis
To learn to practice a defensive approach to tissue handling and frozen section interpretation.
In addition, this rotation provides an overview of muscle, nerve and neurodegenerative conditions with a focus on proper case management, correct tissue collection/preservation, and an approach to tissue diagnosis.

Case Mix
The material includes neoplastic and non-neoplastic entities from adults and children with specimens coming from the Johnnie L. Cochran, Jr. Brain Tumor Center, the Maxine Dunitz Neurosurgical Institute, the Pituitary Center and autopsy brains.

Rotation Structure
This one-month rotation includes an initial introduction to normal anatomy of the neuromuscular system, with subsequent weeks focused on CNS neoplasms, diseases of the muscles and nerves, and vascular, demyelinating, infectious and neurodegenerative disorders. Review of neuroimaging and correlation with the pathology is an integral aspect of the rotation. There is a comprehensive study set for review of all important neuropathologic lesions in addition to daily case review.
The neuropathology resident is a back-up for the autopsy resident, and occasionally may need to assist in performing autopsies.

Daily Schedule
Morning case sign-out with afternoon follow-up of special stains
Participation in all neuropathology frozen sections
Participation in the weekly brain cutting session and review of autopsy brains
Study set review

Subspecialty Conferences
Brain cutting (autopsy), every Monday
Brain tumor board, every Wednesday (In the last week of the rotation, the resident is expected to present at this tumor board.)

Research Opportunities
Many studies are available in neuropathology, either within the pathology department or in collaboration with the various institutional centers in neuropathology, including opportunities to collaborate with molecular pathology.
Have Questions or Need Help?
If you have questions or would like to learn more about the Anatomic and Clinical Pathology Residency Program at Cedars-Sinai, please call or send a message to Program Coordinator, Chau Nguyen.
Department of Pathology and Laboratory Medicine
8700 Beverly Blvd., Room 8709
Los Angeles, CA 90048-1804