Cedars-Sinai is recognized as one of the nation's most respected, admired and trusted healthcare organizations. We are setting the standard for lifesaving care today while training the medical professionals of tomorrow.

#HealthcareHeroes
The standard of excellence that Cedars-Sinai is known for around the globe continues as we rise to the occasion of the COVID-19 pandemic. View a message from our residents and fellows, just a few of many #HealthcareHeroes on the frontline.
Our programs are led by some of the nation's best physician-educators. We are at the forefront of medicine and innovation, translating groundbreaking discoveries into successful treatments with global impact. Watch what makes Cedars-Sinai shine.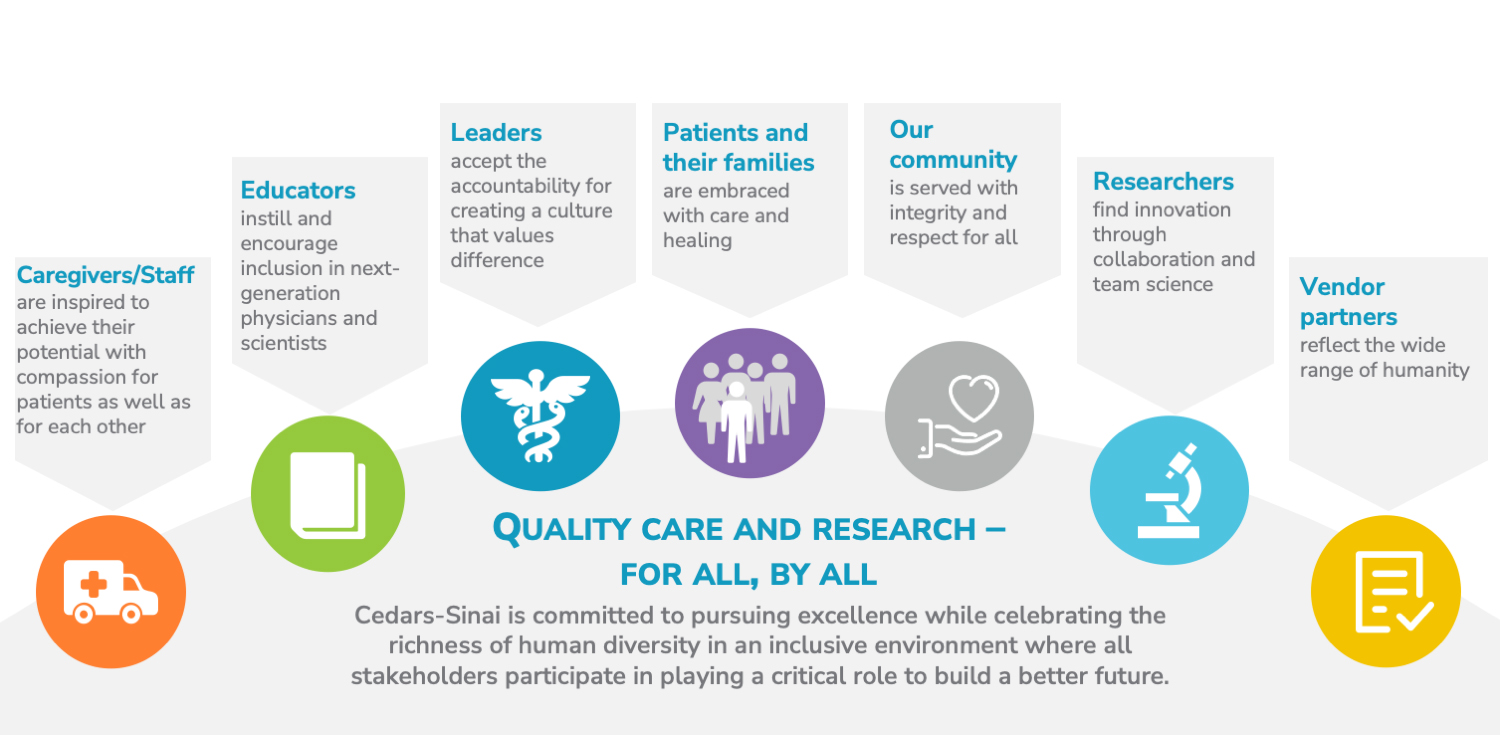 As a nonprofit organization, we're deeply committed to supporting the community in which we work, play, gather and live.

We are located in the heart of one of the nation's most culturally and ethnically diverse cities, an ideal environment to address numerous healthcare challenges among a variety of patient populations.

Cedars-Sinai is consistently ranked among the best hospitals in the nation. Our success is recognized in everything from patient satisfaction scores to research and education.

Graduate Medical Education at
Cedars-Sinai
Our highly regarded and passionate team of experts uphold our world-class medical education program. Learn more about our exceptional Graduate Medical Education programs.
Frequently Asked Questions
---
As with all GME training programs across the nation, our residencies and fellowships have felt the impact of the COVID-19 pandemic. Some of our training programs have been particularly busy in the care of these patients, while others have seen a significant decrease in the specialty care of patients related to the limits on surgical patient care to only highly urgent or emergent situations. We are in the process of slowly reopening more of our operating rooms and ambulatory clinics in a controlled and safe manner. We expect that this process will take several months and evolve depending on the direction of the pandemic. The safety of our patients, staff, residents and fellows is paramount. We closely monitor our supplies of personal protective equipment to ensure our staff has everything needed to safely care for all of our patients.
Cedars-Sinai is committed to our GME programs. We will continue to train similar numbers of residents and fellows as we have in the past several years. We are growing several of our residency programs and have initiated multiple new residency and fellowship programs in the past year. We do expect COVID-19 will likely continue to impact all of our training programs in the immediate future, but we are hopeful that as we get the pandemic under control nationally we will be able to return to the robust training Cedars-Sinai has long been known for.
Each program that Cedars-Sinai sponsors delivers the vast majority of training at our main medical center and ambulatory clinics. Additionally, many of our programs have unique experiences that may include training at other major medical centers, community hospitals or off-site medical clinics. Please go to the individual program pages to read about the clinic training sites that are part of that program's educational curriculum.
Cedars-Sinai offers 13 residency programs for physicians-in-training to advance in their chosen specialty.

Our 78 fellowship programs include rotations throughout Cedars-Sinai, working with experts across diverse specialties and practice settings.

Have additional questions or need more information?
We invite you to learn more about Graduate Medical Education at Cedars-Sinai. Please contact us if you have additional questions about our residency and fellowship programs.