The curriculum of the PhD program in Biomedical Sciences emphasizes research training and closely mentored instruction within a human disease-focused framework. A preliminary review of completed applications will be conducted by our PhD Admission Committee. Competitive applicants will be invited to campus to attend an interview weekend; participation in this event is required for consideration of admission to the PhD program. The interview will consist of meetings with faculty and current PhD students.
In addition, candidates will have an opportunity to tour our medical center, research facilities and surrounding community. Based on the results of the personal interview, the PhD Admissions Committee will make enrollment decisions within 10 days of applicant visits.
If you need a reasonable accommodation for any part of the admissions process, please contact us at gradprogram@csmc.edu and let us know the nature of your request and your contact information. The program prepares students for successful careers by training them as well-rounded scientists with a strong foundation of knowledge in research design, methodology, presentation and the skills needed to compete for research funding.

Admission Requirements
---
Completed online application, including payment of $55 application fee.

Statement of purpose: Three double-spaced pages maximum, detailing your reasons for wanting to pursue graduate study in biomedical science (please email in PDF form to gradprogram@csmc.edu) OR you may complete the statement of purpose through your online application. The statement of purpose is carefully considered in the selection process and is very important; please be as concise and specific as you can.
Letters of recommendation: Three letters must be submitted from persons who have supervised the applicant's research and/or academic work; these letters must sent on letterhead and must be sent directly to the graduate program office from the person writing the letter.
GRE: GRE scores are not required to be considered for admission for the PhD program. You may submit your official scores, directly from ETS, for a more competitive application (GRE institution code: 5739).
Degree: bachelor's degree (BA or BS) in a biomedical discipline or science-related field from an accredited college or university.
Official transcripts sent directly to the graduate program office.
TOEFL scores: For students whose first language is not English, official TOEFL scores are required. These must be sent directly from ETS to the graduate program office (TOEFL institution code 5739). Official MCAT scores are acceptable.
Prerequisites
---
The following are recommended prerequisites for admission to the PhD program:
One year each of general biology and biochemistry
Two years of chemistry (general and organic), including laboratory
One year of mathematics
One year of general physics, including laboratory
Significant experience in a research laboratory
Application Fee Waiver
---
The PhD program will waive the application fee for applicants who are participating in — or who have participated in — an eligible program for at least a year. The fee waiver is a one-time offer for eligible applicants.

You will be required to submit a letter from the program coordinator. Please email this letter to gradprogram@csmc.edu prior to submitting an online application to the graduate program. For those students who have not participated in any of the above programs and feel they have an economic hardship that prevents them from paying the application fee, please contact the graduate program office for a fee waiver application.

Applications From Candidates With MD Degrees
---
Prospective students who hold an MD degree from an accredited institution can be admitted to the program. They receive the same core curriculum as the regular track, with the exception that advance credits for medical school courses in biomedical sciences may be given after an evaluation of prior coursework.
During the first year, up to three laboratory rotations of two months each are required. Because there could be less required coursework in biomedical sciences, this shortened laboratory rotation time is expected to achieve the same exposure as that achieved by regular students who are engaged in the curriculum of biomedical sciences. When a student knows at the outset which laboratory and primary mentor they are likely to elect for their dissertation research, the two required rotations should be in laboratories other than this one. Should there be uncertainty, an additional rotation will be permitted.
During the first year, students are expected to attend and achieve credits for biostatistics/bioinformatics.

International applicants who have graduated from an institution located outside of the U.S. are required to submit an official evaluation of their academic records. Any evaluation service may be utilized. For your convenience, a link to SpanTran can be found here.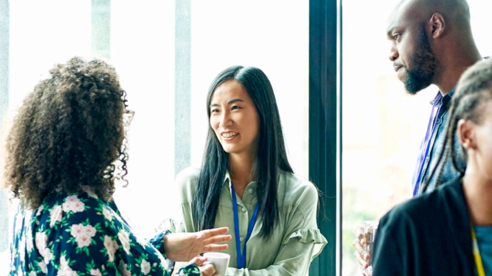 Diversity Statement
At Cedars-Sinai, we solicit and encourage applicants who will strengthen our diversity. Cedars-Sinai does not unlawfully discriminate on the basis of race, religion, color, national origin, citizenship, ancestry, physical or mental disability, legally protected medical condition (cancer-related or genetic characteristics), marital status, sex, pregnancy, age (40 or older), veteran status, sexual orientation or any other basis protected by federal or state law.

Have Questions or Need Help?
If you have questions or wish to learn more about the PhD program, call us or send a message.

Graduate School of Biomedical Sciences
8687 Melrose Ave.
Suite G-532
West Hollywood, CA 90069