Meet Our Clinical Scholars
We are privileged to represent such a breadth of academic, scientific and clinical achievement among our Clinical Scholars every year. Each class consists of doctors and doctoral-level professionals with significant accomplishments in almost every discipline of human disease-related research.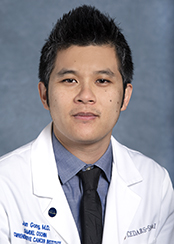 Jun Gong
Jun Gong, MD is a medical oncologist and researcher of the Gastrointestinal and Neuroendocrine Malignancies and Urologic Oncology Program at Cedars-Sinai Medical Center.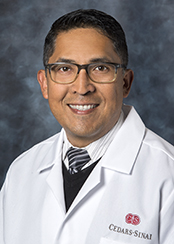 Pedro Sanchez
Pedro A. Sanchez, MD, MSCE, FAAP, FACMG is the Director of the Clinical Genetics Program in the Department of Pediatrics at Cedars-Sinai Medical Center...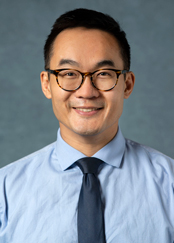 Alan Kwan
Alan Kwan, MD, is a second year cardiology clinical fellow specializing in cardiac imaging. Born in Seattle, went to med school at University of Washington, cardiac imaging research at NIH, residency at Johns Hopkins.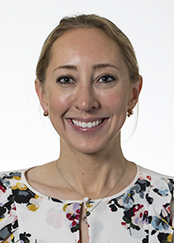 Courtney Penn
Courtney Penn is a gynecology oncology fellow at Cedars-Sinai. She completed her residency in obstetrics and gynecology at the University of Michigan and attended medical school...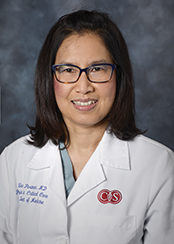 Tanyalak Parimon
Tanyalak Parimon is a faculty member of the pulmonary and critical care division. Her current research interest is lung fibrosis. Tanyalak is studying the role of extracellular vesicles...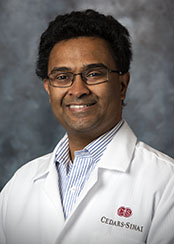 Santhosh Nadipuram
Santhosh Nadipuram, MD, is a pediatric infectious diseases specialist and a physician-scientist. He joined Cedar-Sinai in 2018 and is now studying in the Arditi Lab with the goal of understanding... Akbarshakh Akhmerov
Akbarshakh Akhmerov, MD attended Emory University for his undergraduate degree and completed his medical school training at Cornell University, Ithaca, New York. Asha Pathak
Asha Pathak, MD, joined the Cedars-Sinai Division of Endocrinology faculty in August of the 2018-2019 academic year. She is a member of the Pituitary Research Program directed...

Haider Aldiwani
Haider Aldiwani, MD is a fellow in Internal Medicine at Cedars-Sinai in the Women's Heart Center.
Annual Rosters
---
See our former cohorts of our Clinical Scholars.
Have Questions or Need Help?
If you have questions or would like more information about the Clinical Scholars Program at Cedars-Sinai, please call or send us a message.