IBD Dietitian Apprenticeship
This six-month program is designed to provide IBD-focused nutrition education for a registered dietitian within the adult and pediatric populations. The apprentice will rotate through outpatient multidisciplinary clinics, will join the IBD team on biweekly inpatient rounds, lead a research/quality improvement project, participate in and lead a monthly nutrition Journal Club, attend our weekly IBD multidisciplinary conference, and more. The CDR recognizes this as "Activity 210 Residency/Fellowship Program" and the participant will receive 75 CPEUs upon completion of the program. Salary and housing support will be provided.

Eligibility and Criteria for Selection:
Candidates must be RDs (registered dietitians) and ideally, hold a graduate degree. Must be able to practice as a dietitian in the U.S.
Experience in IBD is not required, but six months of clinical experience practicing as an RD is required.
Personal statement that speaks to how this training will facilitate the expansion of IBD nutrition services at their place of employment.
Two letters of recommendation, including at least one from a current or recent (within the past year) supervisor and/or mentor.
Letter of support from applicant's leadership to fully participate in apprenticeship (e.g., supervisor, manager, department chair).
Declaration of intent to complete the program.
We will be prioritizing candidates who: (a) plan to pursue IBD nutrition as their career focus and/or (b) work in an underserved area.
A grant provides funding for one dietitian apprentice per six-month cycle. Our inaugural apprentice has been selected and we will open applications for the third cycle (July – December 2024) soon. 
Topics Covered
The role of nutrition and diet in IBD care (inpatient and outpatient)
Integration of nutrition services into advanced multidisciplinary IBD care
Evidence-based diets for symptom management and reducing inflammation
Common nutritional deficiencies
Nutrition optimization for surgery, Enhanced Recovery After Surgery (ERAS)
Complementary and integrative nutrition for IBD
Short bowel syndrome and micronutrient deficiencies
Assessment of pediatric malnutrition and growth failure
Nutrition support (enteral and parenteral nutrition therapy)

Kelly Issokson, MS, RD
Clinical Nutrition Coordinator, Course Director, Apprenticeship Director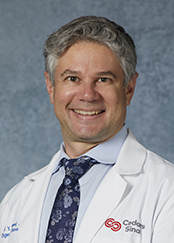 Gil Y. Melmed, MD, MS
Course Co-Director, Director, Inflammatory Bowel Disease Clinical Research, Associate Director, Karsh Division of Gastroenterology and Hepatology
Eric Vasiliauskas, MD
Course Director, Director, Cedars-Sinai Nutrition and Integrative IBD Subspecialty Program
Shervin Rabizadeh, MD, MBA
Course Co-Director, Chair, Department of Pediatrics, Director, Pediatric Gastroenterology and Pediatric Inflammatory Bowel Disease
Erin Feldman, RD, CSP
Clinical Dietitian, Pediatric Gastroenterology and Pediatric Inflammatory Bowel Disease
Have Questions or Need Help?
Contact us if you have questions or would like to learn more about the IBD Dietitian Apprenticeship.