Services
At the Women's Guild Simulation Center for Advanced Clinical Skills, you'll find a wide array of training topics and fully customizable courses to fit your team's needs. From simulation and team training skills to advanced surgical training on the latest operating equipment, our center is poised with the staff and technical support to enhance clinical or research protocols.
Creating a Safe Environment
---
Learn about important steps and procedures for creating a safe environment inside the Women's Guild Simulation Center.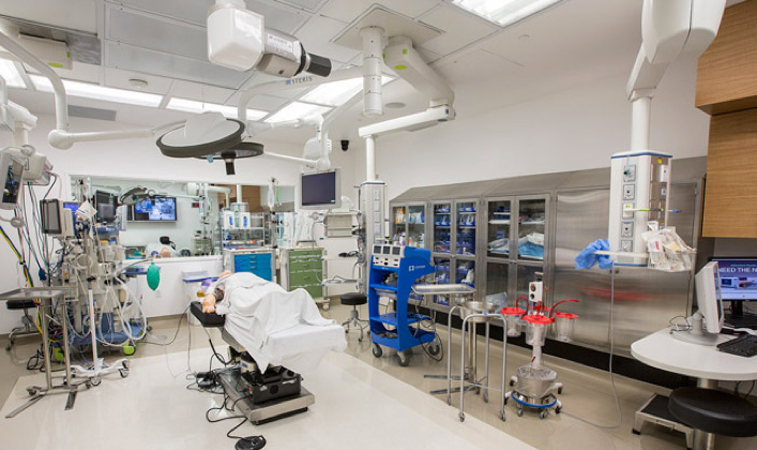 Our training programs are designed to meet specific clinical needs and we offer many institute and department-specific programs. We can also customize a training program to fit your needs. To request a course, please complete a request form. To book additional sessions on approved courses, please complete a request application. 
Leadership and Management Training
---
The Simulation Center provides leadership and management simulation experiences. Working with the simulation team, we can help develop leadership and management programs that meet your learning goals. Immerse your leaders in highly realistic scenarios to enhance their teamwork, communication and collaboration skills. In this experience, you can become a clinician for a day and experience the unique environment of healthcare.
Simulation Consulting
---
As simulation programs expand, many institutions need support in developing their own programs. Cedars-Sinai has significant expertise in all aspects of healthcare simulation. If you are considering developing a simulation center, or need advice on programs, we can provide expertise to help achieve your goals. Simulation experts can work with your facility to support development of services, expansion of programs and preparation for accreditation with various simulation agencies. Support can be provided both within the U.S. and internationally. If you would like to reach our team, please email simconsultation@csmc.edu or russell.metcalfesmith@csmc.edu.

Medical Device Testing / Market Testing
---
The Simulation Center offers a highly realistic environment that may help in the testing of products or medical devices. If you have a development project that would benefit from an exceptionally realistic clinical space, we may be able to help.
Simulation Training for Maintenance of Certification in Anesthesiology
---
This simulated activity is to provide anesthesiologists with case scenarios that may be seen in daily practice. They will complete the simulation and reflect individually and as a group on their performances with guided debriefing.
Acute Life Threatening Events Recognition and Treatment (ALERT™)
---
The ALERT (Acute Life Threatening Events Recognition and Treatment) course is a well-established program that focuses on the detection and management of patients becoming unwell in the healthcare setting. The course is developed to provide the multi-profession healthcare team with a systematic approach to recognizing, treating and escalating to a higher level of care when needed. By implementing this training program, your healthcare team can become more confident in its detection and initial management of sick patients.
Cedars-Sinai Women's Guild Simulation Center is the western hub for the United States. We are working to support other institutions to develop this program in their facilities. If you would like to become an ALERT Course Training Center, please email simulationandtrainingcenter@cshs.org.

Simulation Faculty Development Course (2 Days)
---
Are you looking to increase the use of simulation in your educational programs? The Cedars-Sinai Women's Guild Simulation Center for Advanced Clinical Skills offers customized faculty development programs for simulation. The program aims to develop a theoretical and practical application of this experiential learning approach. Courses offers both didactic and hands-on experience within an exceptional environment, leaving you with the tools to start your journey into healthcare simulation. In addition to educational development, we can provide programs for your technical and operational staff preparing them to deliver services within your institution. We can also deliver programs at your facility either within the U.S. or internationally. Please email us at simulationandtrainingcenter@cshs.org so we can further assist you. An example two-day program is available in the attachment.

Simulation Fellowship
---
Cedars-Sinai will be providing a simulation fellowship program in 2021. The fellowship program, which can be customized to your needs, is delivered at the Women's Guild Simulation Center for Advanced Clinical Skills at Cedars-Sinai Medical Center. This fellowship, which welcomes applicants from around the world, allows participants to experience working in a very busy hospital-based simulation program. The Women's Guild Simulation Center hosts visitors from around the world and aims to support the development of simulation programs in your facility. Please email simfellow@csmc.edu or russell.metcalfesmith@csmc.edu to discuss your requirements.

Have Questions or Need Help?
Contact us if you have questions or want to learn more about Women's Guild Simulation Center.