Office of Research Compliance & Quality Improvement
The Cedars-Sinai Human Research Protection Program (HRPP) is a fully accredited institutionwide program that encompasses every aspect of human subjects research, and where all components are collectively responsible for protecting the rights and welfare of human research participants.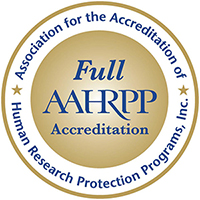 AAHRPP Accredited
Cedars-Sinai is fully accredited by the Association for the Accreditation of Human Research Protection Programs (AAHRPP) for all research involving the protection of patients.
The Office of Research Compliance and Quality Improvement (ORCQI) is the administrative arm of Cedars-Sinai's IRB and is the designated institutional HRPP Administrator. Under the leadership of its executive director, the ORCQI manages several components of the HRPP, including IRB Operations, the Research Compliance and Post-Approval Monitoring Program, and the Quality Improvement and Education Program, and in partnership with the following components of the HRPP which are managed by Research Administration, strives to ensure safe, ethical, efficient and high-quality research: Scientific Review Committees, Radiation Safety, Information Technology, Compliance, Legal, Pharmacy, researchers and research teams, research participants, and the Cedars-Sinai community.
Each of these components is in part responsible for ensuring that for all Cedars-Sinai research and research conducted by Cedars-Sinai affiliates:
The rights and welfare of human research participants are protected. 
Research is guided by the ethical principles of respect for persons, beneficence and justice as set forth in the Belmont Report.
Research is conducted with the highest level of expertise and integrity.
Research complies with applicable laws.
Please contact the Office of Research Compliance and Quality Improvement if you have any questions about research compliance, IRBs, or any aspect of the Human Research Protection Program
Clinical Trials
---
Research scientists and physicians at Cedars-Sinai push medical frontiers by applying research discovery from clinical trials toward finding new treatments and improving patient care and outcomes. For information about protocols, rights, consent and privacy issues around clinical trials at Cedars-Sinai, view our Frequently Asked Questions page.
Have Questions or Need Help?
Contact us if you have any questions or wish to learn more about research at Cedars-Sinai.