Our lab is investigating automated derivation of imaging biomarkers to solve key clinical problems.
Using a vascular contrast material for ultrasounds, this study aims to develop the optimal ultrasound transducer to help dissolve blood clots.
Memory Circuitry Assessment
Memory circuitry assessed using diffusion tensor imaging.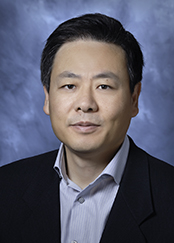 We develop novel MRI techniques for early detection of coronary artery disease."
---
Debiao Li, PhD
Karl Storz Chair in Minimally Invasive Surgery in Honor of George Berci, MD
Director, Biomedical Imaging Research Institute
Professor, Biomedical Sciences
Professor, Imaging

Li Laboratory
Meet Our Team
---
The respected faculty members dedicated to endocrinology research at Cedars-Sinai explore a multitude of conditions and diseases through theoretical, applied and translational research.
Have Questions or Need Help?
Contact us if you have questions, or wish to learn more about Imaging Research research at Cedars-Sinai.