Center for Neural Science and Medicine
The Center for Neural Science and Medicine (CNSM) was founded to support and coalesce the neuroscience community at Cedars-Sinai across the institution. Some of the most important discoveries are made when boundaries are crossed—when researchers and clinicians with diverse backgrounds collaborate to solve a problem with synergistic expertise.
Reimagining Brain Research
The goal of the CNSM is to ignite opportunities for collaborative neuroscience research at Cedars-Sinai and beyond by supporting neuroscience educational events, providing seed funding for multidisciplinary pilot projects, promoting community building via social events and recruiting and supporting the next generation of neuroscientists.
The center is organizing our efforts around three interest groups:
Neural Injury, Degeneration and Immunology
Cognitive and Systems Neuroscience
Neurodevelopment, Cancer and Repair
Understanding how the brain functions across a variety of conditions—in health and disease, during development and aging—remains one of the greatest scientific challenges of modern times and the primary focus of CNSM researchers.
How the Brain Stores and Maintains Memories
Research in the Rutishauser Lab investigates the neural basis of how new memories are made and how existing memories are used for making decisions, with the ultimate goal of providing the fundamental basic knowledge needed to develop new therapeutic interventions for memory disorders.
Model Systems for Tracking Brain Tumors
The Breunig Lab works to discover the cause of brain tumor development and create therapies for brain repair.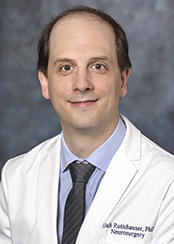 Our mission is to promote innovative neuroscience research by bringing together and expanding the growing interdisciplinary neuroscience community at Cedars-Sinai and thereby enabling the development of new treatments for brain disorders.

---
Ueli Rutishauser, PhD
Board of Governors Chair in Neurosciences
Director, Center for Neural Science and Medicine
Director, Human Neurophysiology Research
Professor, Neurosurgery
Professor, Neurology
Professor, Biomedical Sciences

Join Our Research
Any Cedars-Sinai faculty interested in neuroscience with an active research program, in any domain, can join the Cedars-Sinai Center for Neural Science and Medicine as an affiliated laboratory. To join, and for more information, please contact our administrator, Catherine May Virtucio, by email at catherinemay.virtucio@cshs.org or phone at 310‐248‐8662.
Have Questions or Need Help?
Contact us if you have questions, or wish to learn more about neural science and medicine research at Cedars-Sinai.
Pavilion
127 S. San Vicente Blvd., Suite A6600
Los Angeles, CA 90048