Quantitative Diagnostic Software Group (QUAD)
The Quantitative Diagnostic Software Group (QUAD) seeks to develop software to allow computers to process and analyze three-dimensional images of the heart in much the same way as an experienced human operator. The program applies artificial intelligence techniques to the measurement of parameters critical to understanding the state and behavior of the human heart. This automated approach allows information to be obtained very quickly that is quantitatively accurate and does not suffer from intra-observer or inter-observer variability.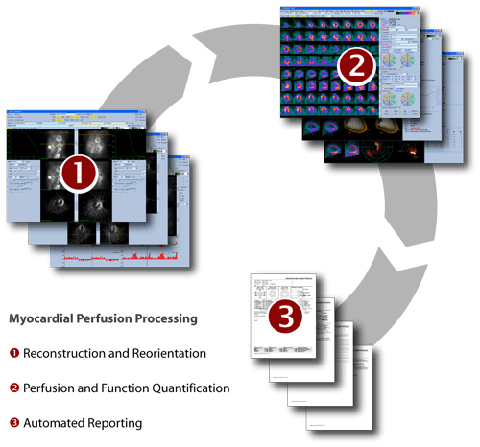 The software and algorithms developed by QUAD are widely considered to represent the gold standard in nuclear cardiology. They can perform a totally automated, push-button sequence of actions relating to imaging processing and analysis.
Through QUAD, algorithms have been developed to:
Take raw digital data output by the gamma camera, identify where the heart is, reconstruct it into tomographic images and reorient those images to make them perpendicular to the heart's axis—all without operator interaction.
Take tomographic images of the heart, evaluate the signals from several hundred portions of the myocardium, compare the strength of the signals with those expected in a normal heart and generate an exact quantitative measurement of the location, extent and severity of perfusion abnormalities of the heart. This gives the physician objective information to help select or rule out more invasive treatment.
Analyze the dynamic functioning of the heart (i.e., the way it contracts and thickens during its cycle). A dynamic measurement of the heart cavity volume is performed from electrocardiographically gated three-dimensional nuclear cardiology images by automatically identifying the endocardial and epicardial surfaces and following their motion throughout the cardiac cycle.
The software and algorithms developed by QUAD are licensed and distributed by virtually every nuclear medicine camera manufacturer.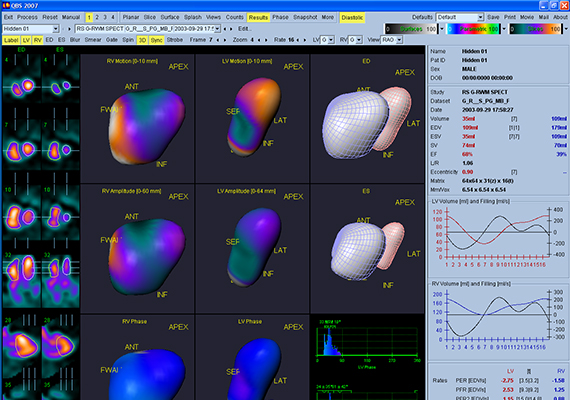 Information on QUAD projects, including detailed descriptions, screenshots, applications and outside resources relating to QUAD research.
Software Availability
---
The following companies distribute some of our software applications:
Philips Medical Systems
Siemens Medical Solutions
GE Healthcare
BC Technical
Cardiovascular Imaging Technologies (CVIT)
Digirad
Hermes Medical Solutions
Hitachi
INFINITT
Medical Imaging Electronics (MiE)
Mediso
MIM Software
Mirada
Ohio Valley Imaging Solutions (OVIS)
ScImage
Segami
Special T Electronics
Spectrum Dynamics
TTG Imaging Solutions
What's New
---
Detailed information regarding new features can be found on the individual project websites. Several optional modules are now available to complement the existing features of QGS and QPS.
Have Questions or Need Help?
Contact us if you have questions, or wish to learn more about QUAD.

8700 Beverly Blvd., Metro 203
Los Angeles, CA 90048