Reporting
The Cedars-Sinai reporting system is a complete reporting package for nuclear cardiologists. The reporting system, designed to quickly produce high quality, error-free reports, is divided into 2 main components: Automated Report Generator (ARG) and QARG.
New Features
The following features have recently been added to the software (ARG 2.0):
Customizable reports. This feature includes:

Visual report editor
Powerful sentence generator/editor
Customizable selection boxes

Inclusion of screenshots in the report
Easy setup and configuration wizard
In Depth
ARG offers several features to improve reading room workflow:
A series of consistency checks are used to ensure the report does not contain conflicting information.
By eliminating the need for the traditional lengthy process of dictating, transcribing, reviewing and revising reports, ARG cuts turnaround time and delivers same-day reporting.
Utilizing ARG's client server architecture, all physicians, technologists, system administrators and administrative personnel are able to work collaboratively on each patient's study simultaneously.
Full integration with our myocardial perfusion quantitative applications (AutoQUANT, QPS and QGS) further reduces the risk of errors and improves the nuclear cardiologist's reading room workflow.
The system generates an ICANL-compliant report.
QARG extends the functionality of ARG by adding the following features:
The ability to include and edit history and ECG information in the report.
An interface to allow searching of old reports.
The ability to generate ASCII Text reports, which can easily be uploaded to HIS/RIS systems.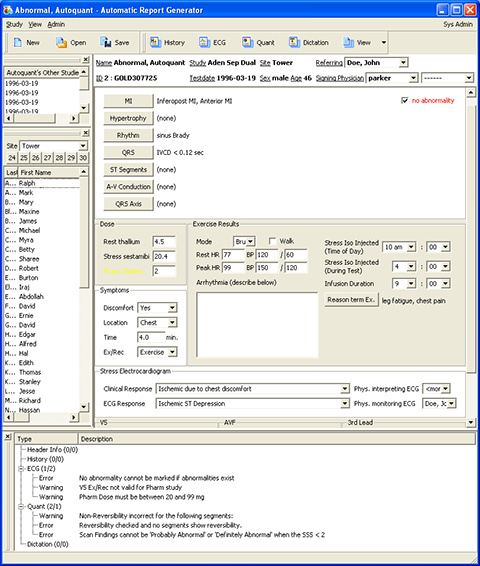 Sample Reports
ARG 2.0 using only QPS and QGS: [PDF]
ARG 2.0 using QPS, QGS and QARG (classic): [PDF]
ARG 2.0 using QPS, QGS and QARG (structured): [PDF]
ARG 2.0 using QPS, QGS and QARG (signed): [PDF]
ARG 1.0 Sample - unsigned: [PDF]
ARG 1.0 Sample - signed: [PDF]
Have Questions or Need Help?
Contact us if you have questions, or wish to learn more about QUAD.

8700 Beverly Blvd., Metro 203
Los Angeles, CA 90048