Urologic Oncology Research Program
Using basic science and translational research to improve clinical outcomes of patients with prostate, kidney and bladder cancers.
The Uro-Oncology research program holds extramural funding and engages in research collaborations to advance knowledge and clinical translation. Currently, the program is funded by a National Cancer Institute Program Project on "Prostate Cancer Bone Metastasis: Biology and Targeting," and NIH R01, Department of Defense and foundation research grants.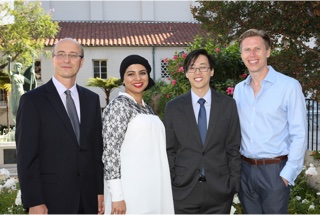 Collectively, we pursue strong inter- and intra-programmatic collaborations with three objectives:
Understanding the "cross-talk" between the tumor and its microenvironment
Developing new imaging, targeting and biomarkers
Accelerating clinical translation of basic science discoveries from bench to bedside to improve the clinical outcome of patients with prostate, kidney and bladder cancers.
Research Faculty
---
A team of nationally and internationally recognized scientists in the field of cancer biology guides urologic-oncology research at Cedars-Sinai.
Clinical Resources
---
For information on diagnostic testing and screening, prostate cancer treatments or to find a physician, please visit the following Cedars-Sinai clinical programs:
Have Questions or Need Help?
Contact us if you have questions or wish to learn more about the Urologic Oncology Research Program at Cedars-Sinai.
Uro-Oncology Research Program
8750 Beverly Blvd, Atrium 103
Los Angeles, CA 90048