Diabetes and Obesity Research Institute
The Cedars-Sinai Diabetes and Obesity Research Institute joins the discoveries of the laboratory with the real-world utilization of the clinic to delve into comprehensive investigation of the mechanisms at work in both diseases—with an eye toward the discovery and implementation of truly novel and effective treatment options.

Estrogen, Androgens and Metabolism
Estrogen has been shown to be protective in regulating weight, browning of fat and lower rates of diabetes in women.

Weight-Loss Surgery and Diabetes
Scientists have discovered that gastric bypass surgery has been shown to eliminate Type 2 diabetes in 40 to 85 percent of diabetic patients.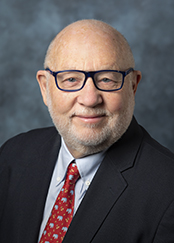 Our goal is to find ways to reduce obesity and to suppress the linkage between obesity and insulin resistance and diabetes.

---
Richard Bergman, PhD
Alfred Jay Firestein Chair in Diabetes Research
Assistant Clinical Professor, Artherioschlerosis Research Center
Director, Diabetes and Obesity Research Institute
Professor, Biomedical Sciences
Professor, Medicine

Have Questions or Need Help?
Contact us if you have questions, or wish to learn more about the Diabetes and Obesity Research Institute.
Diabetes and Obesity Research Institute
Thalians Health Center, Room E104
8730 Alden Drive
Los Angeles, CA 90048