COVID-19
Preclinical Research
---
Our investigators have been at the forefront in discovery during the COVID-19 pandemic, have identified pathogenic mechanisms in COVID-19 and contributed to therapeutic development.
Our work has led to a better understanding of why some patients develop severe disease after COVID-19.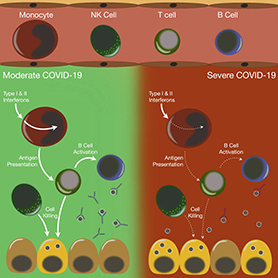 We have developed novel models to study disease pathogenesis and for drug discovery.
Some COVID-19 patients have chronic symptoms (i.e., long COVID) that cause long-lasting disability. We have been trying to understand why some patients develop permanent lung dysfunction requiring oxygen supplementation and sometimes lung transplantation.
We have worked closely with the CORALE study to understand mechanisms that prevent appropriate generation of neutralization antibodies after COVID-19 vaccination.
Clinical Research
---
Our investigators conducted clinical trials for COVID-19 treatments during the early days of the pandemic. Our work has led to the development of many of the current treatments used for COVID-19 patients.
Have Questions or Need Help?
Contact us if you have questions or would like to learn more about the programs and services at the Cedars-Sinai Women's Guild Lung Institute.
Women's Guild Lung Institute
Pavilion, Suite 9400
127 S. San Vicente Blvd.
Los Angeles, CA 90048