Physical Medicine & Rehabilitation Department
Message from the Department Chair
At the heart of our rehabilitation programs is the care, creativity and compassion our team provides to each and every patient we see."
---
Mary Nasmyth, MD
Chair, Physical Medicine & Rehabilitation

---
CLINICAL EXPERIENCES
Our clinical education program has active contracts with schools across the United States for physical therapy, occupational therapy, speech-language pathology and neuropsychology. You can request for more information or send a message to education coordinator Maria Cecilia Alpasan at mariacecilia.alpasan@cshs.org.
POST-PROFESSIONAL TRAINING PROGRAM
WORKSHOPS AND COURSES
The Cedars-Sinai Department of Physical Medicine and Rehabilitation is an approval agency for the Physical Therapy Board of California. We are an approved provider for the California Speech-Language Pathology and Audiology Board, the American Speech-Language-Hearing Association, the American Occupational Therapy Association and the American Psychological Association.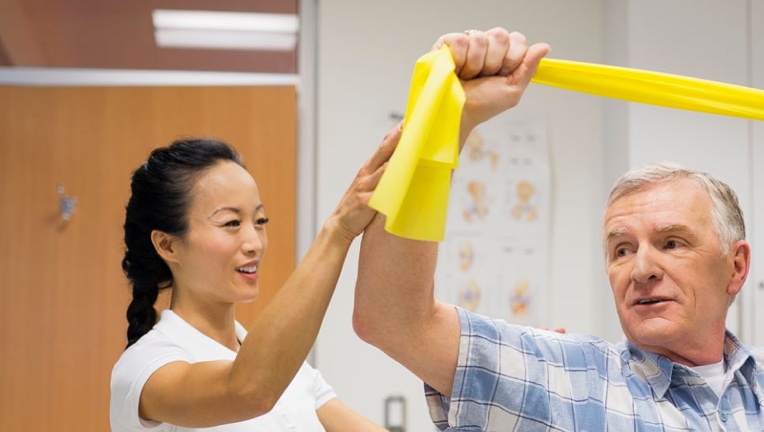 Patient Care
The Physical Medicine and Rehabilitation Program offers acute therapy and outpatient rehabilitation services at Cedars-Sinai, including physical, occupational and speech-language therapies as well as neuropsychology services for a wide range of conditions.

Our Faculty
Cedars-Sinai faculty members are at the forefront of research and care in every field. Meet our distinguished team of top clinicians and investigators.

Have Questions or Need Help?
Contact us if you have questions or wish to learn more about Cedars-Sinai Physical Medicine and Rehabilitation Research and Education programs.