About the Smidt Heart Institute
The Smidt Heart Institute reflects Cedars-Sinai's steadfast commitment to heart disease research innovation. Our tradition of medical excellence gives patients access to the highest level of care. Seminal research and progressive scientific breakthroughs are helping us continuously raise the bar.

Cedars-Sinai has been at the forefront of heart disease research and treatment for decades. Our team has played a pivotal role in establishing new cardiac subspecialties, advancing medical knowledge and developing new care techniques. Our legacy also includes sharing best practices on a global scale through leadership and publications.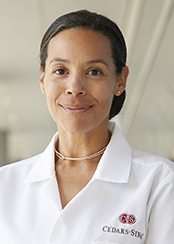 Joanna Chikwe, MD, FRCS, FACC
Founding Chair, Department of Cardiac Surgery
#2 in the U.S. for Cardiology, Heart & Vascular Surgery according to U.S. News & World Report

Three-Star Rating from The Society of Thoracic Surgeons for Mitral Valve Surgery

Ranked #1 in the nation for expertise for transcatheter aortic valve replacements

Have Questions or Need Help?
Contact us if you have questions or wish to learn more about the programs and services at the Smidt Heart Institute at Cedars-Sinai.