Personal Statement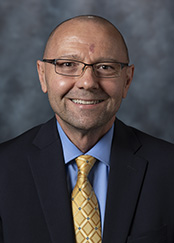 I received my urological training in the Surgeon Scientist Training Program in the Department of Surgery at the University of Toronto, where I also obtained a doctorate in molecular and cell biology with Robert Kerbel, PhD. I then completed a clinical fellowship in urologic oncology at the Memorial Sloan Kettering Cancer Center in New York City.
Until a few years ago, I had a focused clinical practice in urologic oncology with a special interest in bladder cancer and minimally invasive robotic surgery. During this period, I made contributions to the clinical practice of urology through work on prostate cancer brachytherapy and the development of a new modification of the Hautmann orthotopic bladder replacement. I also reported some of the early results of minimally invasive laparoscopic robotic (da Vinci) techniques for oncologic surgery.
As a physician (urologist) scientist, I have acquired a broad background in cellular and molecular biology, in vivo models of cancer and translational cancer research including work with human tissues and clinical trials. More specifically, this includes expertise in bioinformatics and prognostic and predictive biomarker development as well as drug discovery and development. My work has focused on identifying clinically relevant oncogenic drivers or suppressors of tumor growth and metastasis and translating this knowledge into biomarkers and therapies useful in implementing precision cancer medicine. Through leading multi-investigator grants and a major cancer center, I learned how to successfully develop collaborations and organize and lead teams of scientists to optimize and synergize their contributions to science. I have been involved in clinical translation of our discoveries through both national clinical trials (e.g., SWOG trial (S1314) of the COXEN principle) and pharmaceutical partnerships of drug development (development of Ral compounds).
I have always had a strong interest in urology resident training and have mentored several residents and fellows who have become academic physician-scientists. I am also proud to have had the opportunity to mentor more than 30 graduate students, postdoctoral fellows and other trainees during my career. I have been elected to the American Society for Clinical Investigation, the Association of American Physicians, the American Association of Genitourinary Surgeons, the American Surgical Association and the National Academy of Medicine. I serve on the National Cancer Policy Forum of the National Academies of Science, Engineering and Medicine, and on the National Cancer Institute Clinical Trials and Translational Research Advisory Committee. I am the founding co-editor-in-chief of Bladder Cancer, the first journal focused on this disease.
Contact the Theodorescu Lab
8700 Beverly Blvd.
Davis Building, Room 3057
Los Angeles, CA 90048