Cedars-Sinai

Joins Initiative Against Opioid Abuse
Cedars-Sinai has received two new grants from the National Institutes of Health (NIH) as part of a nationwide $945-million scientific effort to address the opioid epidemic.
Cedars-Sinai has received two new grants from the National Institutes of Health (NIH) as part of a nationwide $945-million scientific effort to address the opioid epidemic.
The grants are among awards across 41 states made by the NIH in fiscal year 2019 to apply scientific solutions to reverse the national opioid crisis. They are part of the Helping to End Addiction Long-term Initiative, or NIH HEAL Initiative, that the NIH launched in April 2018 to improve prevention and treatment strategies for opioid misuse and addiction and enhance pain management.
The Cedars-Sinai grants involve two important issues: the role of virtual reality in alleviating chronic pain, and how opioid use by women during pregnancy may affect a child's development. The grant titles and leaders are:
"Randomized-controlled trial of virtual reality for chronic low back pain to improve patient-reported outcomes and physical activity" ($305,985). Brennan Spiegel, MD, MSHS, director of Health Services Research and professor of Medicine.
"Planning Phase for the Healthy Brain and Child Development Study (HEALthy BCD) in Los Angeles County Area." ($587,031). Wei Gao, PhD, director of Neuroimaging Research and associate professor of Biomedical Sciences.
The first study would build on Spiegel's prior research showing virtual reality therapy, in which patients were given VR goggles that provided relaxing and meditative experiences, significantly reduced pain for a variety of ailments. An earlier study with 100 patients using VR showed a 24 percent drop in pain scores.

The new grant supports the planning phase of a four-year clinical trial that would compare different types of VR to see which is most effective in relieving chronic low back pain and reducing use of opioids, which are sometimes prescribed for this type of pain.
"It is critical that we expand our options for treating chronic pain," Spiegel said. "As clinicians, we especially welcome alternatives to opioids, which carry the risk of long-term drug dependency."
The co-investigators on the grant, all from Cedars-Sinai, include Mark Vrahas, MD, chair of the Department of Orthopaedics; Itai Danovitch, MD, chair of the Department of Psychiatry and Behavioral Neurosciences and director of the Addiction Psychiatry Program; Mariko Ishimori, MD; and Mourad Tighiouart, PhD, assistant director of the Biostatistics and Bioinformatics Research Center.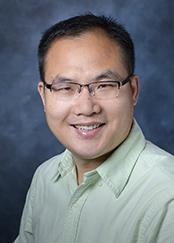 The second grant centers on Gao's pioneering use of MRI scans of infants' brains to help predict later cognitive development, based on growth rates of brain circuits. His grant will fund a pilot study to design and test protocols that potentially could be used to conduct a 10-year, nationwide study to assess the developmental and health effects of in utero exposure to opioids.
"As dangerous as the opioid epidemic is to the current U.S. population, we must remember that it also threatens to affect the next generation," said Sarah J. Kilpatrick, MD, PhD, professor and chair of Department of Obstetrics and Gynecology. "We have long known that in utero exposure to alcohol can negatively impact childhood development. We need to know more about the effects of opioids so that we can prepare effective, early interventions."
Gao's co-principal investigators on his grant are Kimberly D. Gregory, MD, MPH, vice chair of Women's Healthcare Quality and Performance Improvement in the Department of Obstetrics and Gynecologyi; Charles Simmons, MD, chair of the Department of Pediatrics; and Scott P. Johnson, PhD, from UCLA. Co-investigators from Cedars-Sinai include Debiao Li, PhD, director of the Biomedical Imaging Research Institute; Suzanne Devkota, PhD; Marcio Diniz, PhD; Franklin Moser, MD; and Andre Rogatko, PhD, director of the Biostatistics and Bioinformatics Research Center. Other co-investigators are Jennifer Silvers, PhD, from UCLA, and Ken Bachrach, PhD, from Tarzana Treatment Centers.
"It's clear that a multi-pronged scientific approach is needed to reduce the risks of opioids, accelerate development of effective non-opioid therapies for pain and provide more flexible and effective options for treating addiction to opioids," said NIH Director Francis S. Collins, MD, PhD, who launched the initiative in early 2018. "This unprecedented investment in the NIH HEAL Initiative demonstrates the commitment to reversing this devastating crisis."
Research reported in this publication was supported by the National Institute of Health's National Institute of Arthritis and Musculoskeletal and Skin Diseases under award number 1UG3AR076573-01 and National Institute on Drug Abuse under award numbers 1R34DA050255-01 and 3R34DA050255-01S1.