Center Examines Medical Mysteries
Sometimes, despite efforts by multiple doctors, a patient with a chronic condition or a rare disorder is unable to get a diagnosis, and is left with just their symptoms and confusion. For those patients, Cedars-Sinai's new Center for the Undiagnosed Patient (CUP) may provide the answers.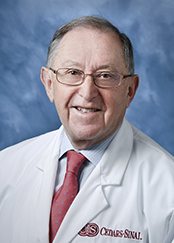 Led by medical director Leon Fine, MD, professor of Biomedical Sciences and Medicine, and associate director Michael Lewis, MD, professor of Medicine, the CUP team includes a variety of specialists including, cardiologists, geneticists, neurologists, endocrinologists, gastroenterologists and infectious-disease experts.
"Sometimes, just being able to put a name to what's been causing their symptoms can give a patient and their family much-needed relief," said Tyler Pierson, MD, lead pediatrician and neurologist for the CUP program. "The program is geared toward patients who have had documented health-related issues and never had a solid diagnosis."
The program is also for patients who have had persistent symptoms or health problems and have already seen their doctors and tried one or more specialists to no avail.
The center is divided into two areas—adult patients and pediatric patients—and begins with an initial consultation with a nurse practitioner. From there, each patient receives a unique plan.
"It's individualized and precision-oriented," said Jennifer Elad, NP, who helped establish the center. She often refers to the process as the "diagnostic odyssey."
A panel of experts then reviews the case as a group and the team makes recommendations.
About 60% of patients in the program so far have had their medical problems diagnosed. Sometimes that leads to treatment plans that patients can pursue and may not have tried before. In some cases, it gives patients a better idea of their future health.
The center recently was awarded $110,000 from Cedars-Sinai Precision Health to develop a research arm.
For more information or to seek medical advice, contact the Center for the Undiagnosed Patient team at undiagnosedpatient@cshs.org or 310-423-8999.