Forrester Receives Lifetime Achievement Award
James S. Forrester, MD, former director of the Cedars-Sinai Division of Cardiology and holder of the Burns and Allen Chair in Cardiology Research, is the 2019 recipient of the Cedars-Sinai Lifetime Achievement Award.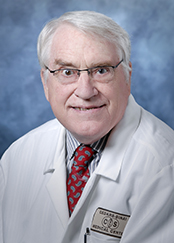 Eduardo Marbán, MD, PhD, Mark Siegel Family Foundation Distinguished Chair and Director of the Smidt Heart Institute, presented the award during the 2019 Commencement of the Cedars‑Sinai Graduate School of Biomedical Sciences on Thursday, May 30, at Harvey Morse Auditorium.
"Jim Forrester is the living link to the proud legacy bestowed upon Cedars-Sinai by the late Dr. Jeremy Swan and the late Dr. Willie Ganz. In his years as chief of Cardiology here, no one did more than Dr. Forrester to establish the utility of the eponymic catheter—still a mainstay of ICU patient management worldwide," said Marbán, professor of Medicine. "Jim's contributions to our understanding of human cardiovascular physiology are fundamental and durable. We are proud to have him as a mentor, friend and colleague."
Forrester, who received his medical degree from the University of Pennsylvania, joined Cedars-Sinai in 1969. His contributions to cardiology are legion, including what became known as the Forrester hemodynamic subsets, a widely used assessment model designed to inform treatment of heart attacks and heart failure. Among his other seminal contributions are developing the Diamond-Forrester probability analysis for diagnosing coronary artery disease and leading a team in the early 1990s that created coronary angioscopy (a method of viewing coronary arteries).
"This award is a tribute to my mentors who illuminated the path and to my mentees over 50 years. Together, their repeated breakthroughs in patient management propelled our spectacular ascent from a good community hospital to the leading cardiology program in the West," said Forrester, cardiologist at the Smidt Heart Institute. "My astonishing good fortune has been to accompany all of these friends on our journey into the unknown."
A prodigious investigator and author, Forrester has published more than 400 scientific manuscripts and book chapters. He also wrote the book, The Heart Healers: The Misfits, Mavericks, and Rebels Who Created the Greatest Medical Breakthroughs of Our Lives (St. Martin's Press, 2015).
The Cedars-Sinai Lifetime Achievement Award, which was first given in 2017, is the most recent of Forrester's many honors. Others include the American College of Cardiology's Lifetime Achievement Award; the American Heart Association's Distinguished Scientific Achievement Award; the Journal of the American College of Cardiology's Simon Dack Award for Outstanding Scholarship; and the Cedars-Sinai Pioneer in Medicine Award.