Four Young Women in Medicine Discuss Careers
Four young women in medicine at Cedars-Sinai recently sat down to talk about their work, career challenges and major influences.
Katie Atkins, MD, PhD, radiation oncologist
How has your personal background influenced your career?
I grew up in a small town in Oregon called Lorane and, until college, I always was in very small schools. I've always really liked the feeling of having a community. I even had that same sense of community in college because I played basketball and the team was my community. As I moved forward academically, it was always really important to me that I enjoyed my team and my community. In radiation oncology, with the multidisciplinary team that you have, it feels similar. This specialty really illustrates a team approach to medicine.
What are the chief challenges you have faced in your career?
Early on, the idea of just even getting into medical school was a daunting task. Part of it was that I came from small schools. I felt like I had a lot of catching up to do. So I had insecurities about whether I had the right academic background to do this and to be successful in medicine. It took time for me to feel comfortable and feel that I belonged.
A year ago, while I was a chief resident, I had a baby, and I think that having a baby as a resident, a trainee, comes with a host of challenges.
Could you say more about how you chose your area of specialization?
When I started medical school, I actually had no idea what radiation oncology was and I really didn't have a set idea of what specialty I wanted to go into. I did a combined MD-PhD program. When I was working on my PhD, which was in a basic science cell biology lab, I had a meeting with radiation oncology researchers and the radiation medicine department chair at Oregon Health and Science University (OHSU). And the department chair asked me, "Are you interested in radiation oncology?" At that time, I had been starting to get interested in oncology from the research side and thought I wanted to look into it clinically. But after that meeting, I started working with the radiation oncology department while doing my research and kept up those ties. Then I did a clinical rotation in that field when I went back into medical school. And as soon as I worked there, I felt like, "These are my people, these are the people I want to work with."
Who has deeply influenced your career?
I don't think I would have discovered radiation oncology at the right time had it not been for Dr. Charles Thomas Jr., the chair of radiation medicine at OHSU. He is someone who recruits like a coach. And I mean that in all the positive ways. He's a mentor. On the personal side, I would say my husband, Bobby Caldwell. We've been together almost 16 years, and through the whole time, he has been unwavering in his support of my career trajectory. 
---
Carol A. Lin, MD, MA, orthopaedic surgeon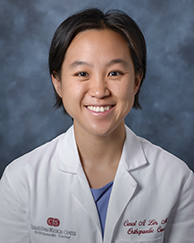 How has your personal background influenced your career?
My parents immigrated from Taiwan in the late 1970s as graduate students. My mother is an engineer and my father is a radiologist, which influenced me. In college, I actually tried not to do medicine because I was trying to find my own thing. But I kept coming back to it. It just felt like the most natural course for me.
What are the chief challenges you have faced in your career?
I think most women, when they go into surgical specialties, are asked, "Are you tough enough?" In orthopaedics, there's the additional stereotype, "Is she strong enough?" But it's rarely malicious, just uninformed. I try to turn it into something lighthearted.  It's more about brains than biceps.
Nationally, only 7% of orthopaedic surgeons are women, while more than 50%  of incoming medical students are women. We're lucky Cedars-Sinai is one of the more diverse and supportive places to work but, even so, I'm the only woman on the orthopaedic faculty.
How did you choose your area of specialization?
I thought I was going to be a pediatric or a cardiac surgeon. And then I spent a year in Malawi, working on a nutrition project. On field visits we sometimes functioned as medical transport for villagers. One child had a leg bent 90 degrees from an old infection. We would shuttle her back and forth so that an orthopaedic surgeon could release all of her scar tissue until she could walk again. I thought that was miraculous. When I came back, I made sure that I did some orthopaedic rotations. I saw people who were in terrible pain, who couldn't really walk or walked with a cane, and then received a hip replacement. They'd feel a difference the next morning and leave the hospital already better. At their post-op, they were just ecstatic. That immediate change in quality of life really appealed to me.
Who has deeply influenced your career?
From my residency, Serena Hu, now chief of spine at Stanford, and Lisa Lattanza, now chair of Yale's Department of Orthopaedics and Rehabilitation. I saw how they led people and was very struck by how subtle it was. Dr. Hu is the quietest speaker in the room, but when she speaks, everybody stops and listens because what she says is so well-reasoned. Dr. Lattanza had a way of correcting behavior directly and indirectly, but never disrespectfully. They became orthopaedic surgeons in a much less favorable environment than now. I love that they managed to still be very gracious and fair. Also, Dr. Donald Wiss, who was my fellowship director here, who was my model for patient care. He's an elegant, thoughtful surgeon and a compassionate physician, very different from the "ortho bro" stereotype. 
---
Tiffany G. Perry, MD, neurosurgeon, assistant professor of Neurosurgery
How has your personal background influenced your career?
Going to a small school, Elon University, I received a lot of individual attention and had the ability to pursue my own interests. While I was an undergrad, I studied art, theater and music, and taught at my own piano studio. I realized that, although I was good at piano, I was not good enough to make music my career. At that point, I spoke with my biology mentor who asked if I ever had thought about medicine, a path that I probably never would have taken if I had been at a larger university and gotten lost in the system.
What are the chief challenges you have faced in your career?
Neurosurgery is a male-dominated field. As a female in spine surgery, I'm even more in the minority and that is a challenge. It still is a boys club. My hope is that one day, we will all look at each other as human beings, and treat each other with respect no matter the gender or race or cultural background. When I encounter these challenges of being in the minority, I remind myself to stay focused on my patients and my work.  This mindset helps me keep the focus off of myself and on taking care of others, which is ultimately why I went into medicine. 
How did you choose your area of specialization?
I had an excellent mentor, Ann M. Ritter, MD, a pediatric neurosurgeon and the first neurosurgeon I shadowed. I remember my first day in the operating room with her after my first year of medical school at the University of North Carolina at Chapel Hill (UNC). I knew immediately I wanted to go into neurosurgery.
Who else has had a strong influence in your career?
On a personal level, my parents. They were supportive every step of the way. Professionally, there were probably four key people. Matthew Ewend, chair at UNC, was a constant reminder of professionalism in neurosurgery and focusing on patient outcomes. Eldad Hadar, our residency director there, taught me balance. You're never going to achieve perfect balance in your family life, but you have to try every day. Edward Benzel of the Cleveland Clinic is the father of spine neurosurgery internationally—a phenomenal human being, surgeon and mentor.  Currently, Keith Black, MD, chair of the Department of Neurosurgery, is my chairman. I could not ask for a more supportive, even-keeled and talented person, who teaches that leading is not always by spoken word but rather by action.
The one thing I would add is that I've experienced cancer affecting both of my parents and four other close family members. Going through these illnesses helped me recognize the personal side of medicine. I think that bringing humanity into your practice can come from being on the other side of it. That has definitely changed my practice and who I am as a neurosurgeon. 
---
How has your personal background influenced your career?
As I was growing up, my parents were always supportive of volunteerism so that my brother and I could get a perspective of what life is like for different people and realize the challenges that people go through. We volunteered, for example, in a nursing home, in a hospital and in a facility for children with developmental disabilities. Having that exposure at a young age helped me appreciate that there are different health challenges that people face. I think that experience shaped my interest in medicine. I was able to understand, to a limited degree even as a young adult, that we need to have empathy and to also realize that there are knowledge gaps in medicine.
What are the chief challenges you have faced in your career?
When I expressed my interest in a career in cardiology, there were a few people who questioned this choice due to my desire to have children, given the busy lifestyle and radiation exposure. Fortunately, because of the amazing female and male mentors that I had during my residency and cardiology fellowship here at Cedars-Sinai, that challenge didn't prevent me from pursuing my dream.  A current challenge for me is finding an optimal work and life balance—time for research, time for writing, time for clinical care, time for family and time for myself.
How did you choose your area of specialization?
I am a preventive cardiologist specializing in heart disease in women. I became interested in this field in the first month of my internal medicine residency, when I took care of a woman who had persistent chest pain but no obstructive coronary disease and was very frustrated with not having a diagnosis. In the Cedars-Sinai cath lab, I observed her invasive coronary reactivity testing procedure, which ultimately diagnosed her condition as coronary microvascular dysfunction. She burst into tears at the end of the procedure, not because she was upset about the diagnosis, but because she finally had a diagnosis and that her symptoms weren't just all in her head. That left a very strong impression on me. Prior to working with the Barbra Streisand Women's Heart Center, I had never learned about coronary microvascular dysfunction which predominantly affects women, and I wanted to know more.
Who has deeply influenced your career?
My mentors here at Cedars-Sinai not only take great clinical care of their patients, but also take the extra time to investigate the pathophysiology, presentation, treatment and ultimately the prevention of their patients' diseases. I am fortunate to be surrounded by physician-scientists. One in particular is my mentor, C. Noel Bairey Merz, MD, director of the Barbra Streisand Women's Heart Center, who has focused her career on investigating heart disease in women and has greatly influenced my academic and clinical cardiology career.