Making Waves in Science: Janine Bilsborough
In honor of National Women's History Month in March, we are celebrating Cedars-Sinai's talented female leaders with a Q&A series, "Making Waves in Science." This week's interview is with Janine Bilsborough, PhD, associate professor of Medicine and director of the Inflammatory Bowel Disease Drug Discovery and Development Unit.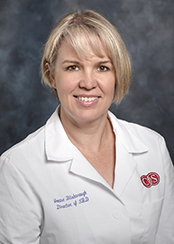 How are you making an impact on science?
I lead a team of research scientists and clinicians who are working to develop new drugs to help the millions of inflammatory bowel disease (IBD) sufferers worldwide achieve long-term remission. Many drugs have been developed, but most haven't been effective. Part of the problem is we don't fully understand what causes IBD, which is the umbrella term for disorders involving chronic inflammation of the digestive tract. Another challenge is that IBD varies widely in terms of symptoms, severity and other factors. Approved drugs don't work for everyone, so we're taking a precision-medicine approach by selecting treatments for patients based on their particular disease characteristics. We've also identified a pathway that may be important for the development of severe, complicated IBD, and we've created an antibody that potentially could disrupt this pathway as a means of treating this form of IBD. The next step is clinically testing this antibody to assess its potential as a new drug.
What leadership advice would you give to your younger self?
I would have said to focus on understanding other peoples's points of view. When we're younger, there's a tendency to want to make your point and convince others to your way of thinking. If you want to move a project forward and achieve your goals, the people you're working with need to know their opinions matter and that you understand where they're coming from. By putting yourself in someone else's shoes, contentious, counterproductive interactions usually can be avoided.
Who is your favorite science heroine from history and why?
I don't have a famous science heroine, but I've had amazing women mentors who've had a tremendous impact on me. Two supervisors at previous jobs immediately come to mind. When I encounter challenging situations I ask myself, "What would they do?" These women's personalities are very different, and I've been able to draw on strengths I observed in each of them. One has strong opinions but presents them in a calm, rational way that forces people to consider what she's saying. The other is more of a people person, always upbeat and empathetic, which makes her very approachable. Different situations call for different strategies, and I'm fortunate to have learned from the best.