Making Waves in Science: Pamela Roberts
In honor of National Women's History Month in March, we are celebrating Cedars-Sinai's talented female leaders with a Q&A series, "Making Waves in Science." This week's interview is with Pamela Roberts, PhD, executive director of Academic and Physician Informatics and executive director and professor in the Department of Physical Medicine and Rehabilitation. She also co-directs the Division of Informatics in the Department of Biomedical Sciences and is associate director of the Clinical Informatics Fellowship Program.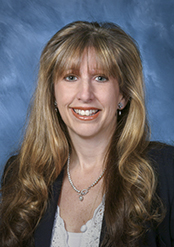 How are you making an impact on science?
As a health services researcher, I have helped improve health system operations, patient care, quality and safety initiatives. Another area of impact is strategic involvement in demonstration projects for the Centers for Medicare & Medicaid Services to evaluate proposed regulations on rehabilitation facilities. Published research papers by myself and others significantly shaped these regulations nationwide and protected patient access to rehabilitation services. In addition, as co-director of the Division of Informatics at Cedars-Sinai, I'm involved in using information technology innovations and large data sets to help inform healthcare delivery decision-making and to influence treatment models and clinical outcomes. Our recently accredited Clinical Informatics Fellowship Program, where I serve as associate director, will impact science by training the next generation of specialists in this field.
What leadership advice would you give to your younger self?
I would have encouraged myself to seize opportunities outside my comfort zone. That's how I was introduced to informatics, and I wish I would have started being open to these types of opportunities earlier. I also would have told my younger self it's OK to take a leap of faith; you might end up in wonderful places you never envisioned. Lastly, I would have emphasized that it's important to seek multiple perspectives when you're making a decision or developing a project. Crossing items off your to-do list feels good, but it's better to slow down and listen to what different stakeholders have to say. Not only will this enrich your perspective, but stakeholders are more likely to be supportive when their views are sought and thoughtfully considered.
Who is your favorite science heroine from history and why?
Grace Murray Hopper. She was born in 1906 and carved an unlikely career path for women of her era. Not only was she a U.S. Navy rear admiral, but she also was a computer technology, programming and software-development pioneer who helped build the first commercial electronic computer. She was an inspiration to women, particularly those in the sciences, and always tried to expand career opportunities for women. Aside from her genius as a computer scientist, she also focused on inspiring loyalty in teams she led and being a good mentor and leader; those characteristics really resonate with me. She died in 1992, but her trailblazing influence definitely lives on.