Moshe Arditi, MD, Wins Pioneer in Medicine Award
A physician-scientist who has devoted much of his career to investigating a coronary disease mainly afflicting children and often leaving them with lifelong heart problems has received the Pioneer in Medicine Award for 2019.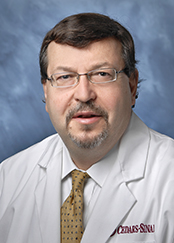 The award winner, Moshe Arditi, MD, a professor of Biomedical Sciences and Pediatrics, is a leading international expert in Kawasaki disease, an ailment that is the nation's No. 1 cause of acquired heart disease among children.
Arditi, who immigrated to the U.S. after attending medical school in his native Turkey, said his interest in the affliction was spurred three decades ago while he was being trained as a pediatric infectious diseases specialist. During that time, he treated hundreds of young Kawasaki disease patients at the medical center now called Lurie Children's Hospital of Chicago, an affiliate of Northwestern University. Arditi said he also was inspired by meeting the Japanese pediatrician, Tomisaku Kawasaki, who identified the disease in the 1960s and who Arditi continues to meet with every year.
The work of his research lab at Cedars-Sinai, Arditi said, is conducted with an eye toward helping "hundreds of thousands of kids with Kawasaki disease" and preventing them from developing cardiac disease as adolescents and adults.
As George Liu, MD, PhD, formerly a professor of pediatric and biomedical sciences at Cedars-Sinai and now a professor at the University of California, San Diego, medical school, noted in his letter nominating Arditi for the Pioneer in Medicine Award, a treatment based on Arditi's research currently is in clinical trials. If the outcome is successful, Liu wrote, "this novel therapeutic approach will be widely used to prevent potentially fatal heart disease in children with KD [Kawasaki disease], and allow them to live healthy, productive lives."
Another major focus of Arditi's research is cardiac disease in adults. His research lab at Cedars-Sinai has explored the role that infections and their resulting inflammation can play in worsening atherosclerosis, a buildup of plaques including fats and cholesterol in the arteries, which can restrict blood flow and lead to heart attacks.
Among other roles at Cedars-Sinai, Arditi is executive vice chair for research in the Department of Pediatrics and director of the division of pediatric infectious disease and immunology. He also is a professor both at Cedars-Sinai and UCLA.
He is the latest in the string of Pioneer in Medicine Award winners dating back to when the annual honor began in 1982. Among other things, recipients are required to be or to have been involved in research, published in national or international peer-reviewed journals, a teacher and a positive role model, an innovator or someone who has changed the medical world around him or her, and a physician at the medical center during a major part of their career.
Liu, in his nomination letter, said he has known Arditi since 2006 and agrees with "the consensus among his peers: Dr. Arditi unquestionably epitomizes the excellence in research, academics, teaching/mentoring and devotion to medicine that the Pioneer in Medicine Award has long honored."
Arditi has been a prolific academic author as well. He has published more than 151 peer-reviewed papers, many of them in some of the top-ranked journals in the world, along with 12 book chapters and 123 scientific abstracts.
Arditi, a jazz aficionado who draws parallels between the musical form and science, aimed some of his final remarks in the speech he prepared for the presentation of the award on Oct. 14 at "young investigators and physician scientists." One piece of advice was that, "There is nothing like the thrill of discovery. That is being something bigger than yourself, that is one of the greatest motivations for a scientist."
Arditi also cautioned that science "is a marathon and not a sprint, you have to be in it for a long haul. There is a lot of pounding you have to take, it is a lot like boxing. You are going to get knocked down several times, the question is, can you get back up, and if you can, you will still be in the game."