Chute, MD, Named Chair in Hematology/Oncology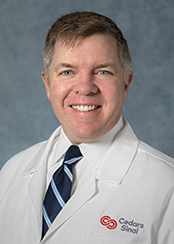 Internationally recognized for his pioneering research in blood-forming stem cells called hematopoietic stem cells, Chute is director of Hematology and Cellular Therapy in the Department of Medicine at Cedars-Sinai Cancer, director of the Center for Myelodysplastic Diseases Research and associate director of the Board of Governors Regenerative Medicine Institute.
Chute joined Cedars-Sinai in 2020 from the David Geffen School of Medicine at UCLA, where he was a professor of Medicine and Radiation Oncology and an investigator in the Broad Stem Cell Research Center.
"I am deeply honored and humbled at being named the Linda Ostrowski Chair in Hematology/Oncology at Cedars Sinai. We will focus our efforts in the Division of Hematology and Cellular Therapy to drive innovative research to develop new treatments for our patients, including engineered cellular therapies and antibody therapies, with the unwavering objective of finding a cure for hematologic malignancies," Chute said. Adding, "The very generous support from the Ostrowski family will catalyze our progress to achieve these goals."
Paul W. Noble, MD, professor and chair of the Department of Medicine and director of the Women's Guild Lung Institute, is thrilled Dr. Chute was named the inaugural director of the division of Hematology and Cell Therapy and of the Ostrowski Chair. "I have known Dr. Chute for 15 years. He is an outstanding physician-scientist who will lead our efforts at Cedars-Sinai to develop a preeminent program in both clinical care and research in hematologic malignancies."
Dan Theodorescu, MD, PhD, professor of Surgery and Pathology and Laboratory Medicine and director of Cedars-Sinai Cancer, sees Chute as an excellent fit for the endowed chair.
"We are very fortunate to have recruited a physician-scientist of John's stature to Cedars-Sinai Cancer and to serve as the inaugural incumbent of the Ostrowski Chair," said Theodorescu.
The Linda Ostrowski Chair in Hematology/Oncology was established in honor of Barry E. Rosenbloom, MD, professor in the Cedars-Sinai Department of Medicine and Cedars-Sinai Cancer member. The Ostrowski family was grateful for care provided by Rosenbloom.
"I am delighted and gratified that Dr. Chute has been appointed to this important endowed chair," said Rosenbloom.