FDA Approves Lung Drug After NEJM Study
Patients with interstitial lung disease (ILD) who develop pulmonary hypertension have had few therapeutic options, until now. The Food and Drug Administration (FDA) recently approved inhaled treprostinil for treating these patients after results of a multicenter study co-led by Cedars-Sinai.
The findings, published in the New England Journal of Medicine (NEJM) demonstrated that treprostinil significantly improved exercise capacity and other clinical outcomes for ILD patients with pulmonary hypertension during the 16-week study. Pulmonologist Victor Tapson, MD, one of three designers of the investigation, helped guide the randomized, double-blind, placebo-controlled trial.
"This represents the first approved therapy for this subset of lung disease," said Tapson, who co-authored the NEJM paper. "Physicians will now have an opportunity to improve the wellbeing of people who often have a very poor quality of life with little tolerance of physical exercise, dependence on oxygen supplementation and a higher risk of dying."
Treprostinil, which widens narrowed blood vessels in the lungs, has been used for treating pulmonary hypertension alone and is given intravenously or by injection. The FDA approved a formulation of the drug that can be inhaled by ILD patients with pulmonary hypertension.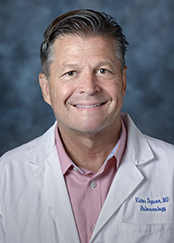 "At the end of the study, participants who were given this form of the drug improved their capacity in the 6-minute walk test and had a lower risk of clinical worsening than the placebo group," Tapson said.
Until this study, treatment options for ILD patients with pulmonary hypertension focused on treating the lung disease and just the symptoms of pulmonary hypertension, rather than treating it directly, according to Tanzira Zaman, MD, assistant professor of Medicine and medical director of the Interstitial Lung Diseases program at Cedars-Sinai.
"There has been legitimate concern about whether usual pulmonary hypertension treatments, particularly those that are taken by mouth or intravenously, might actually make ILD patients worse. This trial is important because it shows us that not only is inhaled treprostinil safe in ILD patients but it can actually help patients function a bit better," said Zaman. She added:
"At the end of the day, we want to treat whole persons, not just their disease. For these patients who have already exhausted usual treatment options there's now another avenue to explore that may help them walk greater distances to preserve independence in their daily lives."
Tapson said he and the other researchers are developing proposals for a new multicenter study of inhaled treprostinil to see if it can benefit patients with chronic obstructive pulmonary disease who develop pulmonary hypertension.
"Dr. Tapson is a pioneer in the study of patients with pulmonary hypertension. His work to address the needs of subsets of lung disease patients who develop secondary pulmonary hypertension is critical for the continued development of treatment options for these patients," said Paul Noble, MD, professor and chair of the Department of Medicine, director of the Women's Guild Lung Institute and the Vera and Paul Guerin Family Distinguished Chair in Pulmonary Medicine.
The primary sites to recruit study participants were Brigham and Women's Hospital in Boston and the Inova Heart and Vascular Institute in Falls Church, Virginia.
Funding: This research was funded by United Therapeutics Corporation, makers of Tyvaso (treprostinil).
Conflicts of interest: Victor Tapson, MD, is a paid consultant for United Therapeutics Corporation and on an advisory board, as are two other study co-authors, Aaron Waxman, MD (Brigham and Women's) and Steven Nathan, MD (Inova Heart and Vascular Institute.)