Geriatric Fracture Program Shows Promise
Investigators in the Orthopaedics Department at Cedars-Sinai have found that implementing a geriatric fracture program improves several important parameters, including the length of stay in the hospital, the patient experience and hospital costs. The findings are important, given that the burden of geriatric fractures is expected to increase dramatically over the next several decades, with hip fractures alone reaching an estimated 6.26 million by 2050 worldwide.
With a rapidly aging population that is at risk for falls, patients with fragility fractures compose a sizeable portion of orthopaedic practices.

The recent study, published in the peer-reviewed journal Geriatric Orthopaedic Surgery & Rehabilitation, focused on geriatric patients with fractures who enrolled in a mixed-practice "pluralistic" environment that included employed academic faculty, private practice physicians and multiple private hospitalist groups. This environment is different than the one typically found in academic settings with inpatient geriatric services and physicians who are employees of the hospital or health system.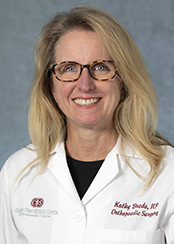 The investigators found that the mixed-practice geriatric fracture program significantly reduced the length of stay, time to surgery and total hospital costs compared with outcomes for patients who were not enrolled in the program.
"It is estimated that nearly half of women and up to 22% of men will suffer an osteoporotic fracture in their lifetimes, often with significant morbidity and mortality," said study co-author Kathleen Breda, MSN, NP, manager of the Geriatric Fracture Program at Cedars-Sinai. "As these patients often have complex medical, surgical and rehabilitative needs, a multidisciplinary approach is needed to ensure that they have the best possible outcomes."
The study described one method for implementing a geriatric fracture program without an inpatient geriatric service but rather with geriatric faculty educating patients about existing services. Investigators followed 564 operative and nonoperative fractures in patients over the age of 65 at Cedars-Sinai, with 153 patients enrolled in the geriatric fracture program and 411 admitted to other hospitalists or their primary care provider (not involved in the program).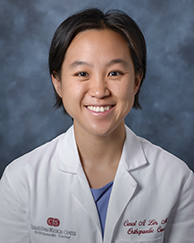 "Prior to our intervention, there was no organized pathway focused on optimizing care for geriatric fracture patients," said lead author Carol A. Lin, MD, director of the Cedars-Sinai program and assistant professor of Orthopaedics.
In collaboration with the Geriatrics Program, the Orthopaedics Department at Cedars-Sinai created a multidisciplinary team consisting of a geriatric nurse practitioner and a consulting geriatrician to implement the Geriatric Fracture Program.
"While our institution does not have an inpatient geriatric service, we do have a Section of Geriatric Medicine within the Department of Medicine. That leadership was heavily involved in designing education programs, reaching out to hospital leadership and recruiting, engaging and educating the inpatient special program hospitalists," Lin said.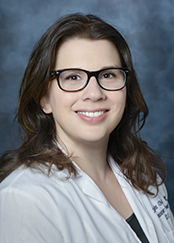 The clinical program for the Section of Geriatric Medicine at Cedars-Sinai involves ambulatory care, in which geriatric fracture patients are seen after hospital discharge for both fall prevention and bone-health assessment by a geriatrician.
"The inpatient special program hospitalist team was chosen because of its already well-established care transitions program at nursing homes and the extensive network of outpatient primary and specialty care providers," said study co-author Sonja Rosen, MD, chief of Geriatric Medicine at Cedars-Sinai and associate professor of Medicine. "Having these factors already in place significantly reduced the amount of time required to conceptualize and implement the program."
"Our medical center has a variety of subspecialty services available, but nothing was more valuable than our departmental and division leadership who were passionate about establishing the geriatric fracture program care model and who were willing to devote time, energy, funding and personnel to ensure its success," said Lin.
Cedars-Sinai investigators showed that a geriatric-orthopaedic co-management model can be successfully implemented without an inpatient geriatric service, utilizing the pre-existing resources in a complex environment, according to Breda. She said there are plans to expand the program to include additional groups of patients.
The successful Geriatric Fracture Program was an integral part of Cedars-Sinai recently being designated as an Age-Friendly Health System – Committed to Care Excellence. This distinction is part of a national initiative of The John A. Hartford Foundation and the Institute for Healthcare Improvement in partnership with the American Hospital Association and the Catholic Health Association of the United States.
"This important recognition signals that Cedars-Sinai is part of a national movement to help ensure that we are taking the best possible care of older people using multidisciplinary geriatric models of care," Rosen said.