Rubenstein Award for Inflammation, Cancer Work
Akbarshakh Akhmerov, MD, and Arjan Gower, MD, have won the 2021 Cedars-Sinai Rubenstein Award for Excellence In Resident Research based on their studies of inflammation and pancreatic cancer.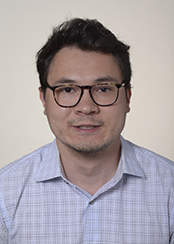 The annual award, which carries a $3,000 cash prize for each winner, honors Paul Rubenstein, MD, Cedars-Sinai's first director of Medical Education. It aims to foster clinical and translational research, enrich knowledge and encourage the development of residents across Cedars-Sinai as investigators.
At a May 27 virtual event, Brennan Spiegel, MD, MSHS, professor of Medicine and chair of the award program, welcomed everyone back for the 2021 award after the 2020 award was canceled due to the COVID-19 pandemic. "This year, the quality of the work, with almost 30 abstracts submitted, was truly outstanding," said Spiegel, who also directs Health Services Research at Cedars-Sinai.
Four finalists presented their research to a panel of judges, who later announced the two winners.
Akhmerov's study focused on how specialized cardiosphere-derived cells (CDCs), developed in a lab from donor hearts, manage the body's immune response to disease or trauma. The study, from the Smidt Heart Institute at Cedars-Sinai, was published online June 24 in the Journal of Heart and Lung Transplantation.
Akhmerov worked under the mentorship of Eduardo Marbán, MD, PhD, professor of Medicine, the Mark Siegel Family Foundation Distinguished Chair and executive director of the institute. Marbán was the study's corresponding author.
The investigators found that CDCs and the tiny particles they release, called exosomes, affect specific cells that lower inflammation. According to Akhmerov, this knowledge could help future investigators formulate potential cell-based therapies. "The finding that CDCs are able to modulate regulatory T cells, which are the naturally occurring immune suppressors in our body, has clinically relevant implications for any disease involving inflammation," he explained.
Gower presented a statistical analysis of survival rates in pancreatic cancer, performed under the mentorship of Andrew Hendifar, MD, associate professor of Medicine and medical director of pancreatic cancer at Cedars-Sinai Cancer. The study has been published online in the Annals of Pancreatic Cancer.
Pancreatic cancer continues to be one of the most lethal cancers. It involves uncontrolled growth and toxicity in cells that originate in the pancreas, the organ that transforms food into energy and helps keep blood sugar in balance, among other critical functions. The five-year relative survival rate for this type of cancer is about 10%, according to the National Cancer Institute.
Gower said part of the challenge in treatment is the lack of screening for early stage pancreatic cancer. As a result, most patients present with late-stage disease.
For his study, Gower and colleagues analyzed the health outcomes of 239 Cedars-Sinai patients who had biopsy-confirmed pancreatic cancer, based on records from 2007 to 2019. 
The study found that patients with a specific kind of mutation called germline ATM had an average survival time of 21 months versus 11 months for patients with somatic ATM mutations. Somatic mutations are developed in the body's cells over the course of life, whereas germline mutations are generally inherited and passed down to offspring, Gower explained.
"Our findings suggest that germline ATM mutations are associated with a survival benefit," said Gower. "As pancreatic cancer has fully entered the era of precision medicine, our study shows that germline ATM mutations may help us predict outcomes and may possibly be exploited therapeutically with targeted therapies."
Gower said future research is needed to understand the significance of ATM mutations with regard to their function and their clinical significance.
After the award event, both Gower and Akhmerov reflected on working through 2020.
"Research has been tremendously tough to conduct during this historic pandemic," Gower said." Our internal medicine residents worked many additional hours caring for critically ill COVID-19 patients, which reduced the time we were able to spend on research. At the same time, the pandemic has reinforced my desire to help patients in need, both at the bedside and through my research."
Akhmerov said the challenges presented in the past year had been life altering. "My commitment to research, and specifically immunology-based research, has strengthened during the pandemic. I was inspired by the global scientific effort, which galvanized so swiftly and effectively against COVID-19. Having the opportunity to contribute to this effort has been one of my most formative moments as a resident."
The Rubenstein award is funded by the Burns and Allen Research Institute at Cedars-Sinai and the Cedars-Sinai site of the UCLA Clinical and Translational Science Institute.
The other two finalists this year were Anthony Nguyen, MD, PhD, who presented research on optimizing treatment for head and neck cancers, and Lucille Yao, MD, who presented a study on postoperative patient satisfaction for telemedicine visits versus in-person visits during the COVID-19 pandemic.
Disclosure: John Lee, a co-author of the Annals of Pancreatic Cancer study, reports that he is on the advisory board for Invitae.