Shufelt, MD, Named Chair in Women's Heart Health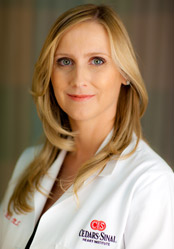 Shufelt, also the co-director of the Preventive and Rehabilitative Cardiac Center and director of the Women's Hormone and Menopause Program, is a leading global expert in women's hormones and heart disease.
"It's a complete honor being the inaugural holder of this chair," said Shufelt, who also was promoted to professor of Cardiology earlier this year. "It shows a level of dedication and respect to what the Barbra Streisand Women's Heart Center has done to advance women's health and the careers of women physician-scientists."
This endowment also represents a full-circle moment for Shufelt.
After graduating from the Keck School of Medicine of USC and completing her internal medicine residency, Shufelt began her career at Cedars-Sinai as the inaugural Constance A. Austin Fellow in Women's Heart Health in 2006, funded by the late Connie Austin. Remarkably, Austin's daughter, Anita Dann Friedman, is keeping her mother's legacy alive with the establishment of the endowed chair—and she continues to fund the fellowship her mother started.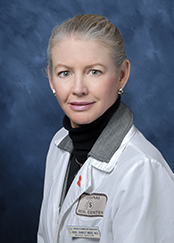 C. Noel Bairey Merz, MD, director of the Barbra Streisand Women's Heart Center and the Irwin and Sheila Allen Chair in Women's Heart Research, emphasized the importance of women receiving endowed chairs.
"When an endowed chair holder is a woman, that achievement provides a strong voice at the leadership table when it comes to crafting health policy, establishing new treatment guidelines, pursuing critical research and creating gender-sensitive curricula in medical schools," said Bairey Merz.
In September 2021, Shufelt became president of the Board of Trustees of the North American Menopause Society, which serves medical professionals and the public. She also is an advisory board member of the European Menopause and Andropause Society and was the sole U.S. author for that society's Global Position Statement on menopause in the workplace.
Shufelt said the endowment will help her implement future innovative projects specific to women's heart health and how it affects the entire lifespan of women.
Endowed chairs enable Cedars-Sinai to attract and retain highly distinguished scholar-researcher-physicians. Thanks to generous philanthropic support, endowed chairs generate sustainable resources to support research and teaching efforts at
Cedars-Sinai.
"This chair also represents a legacy of women supporting women," Shufelt said.