Soukiasian, MD, Named to Chair in Thoracic Surgery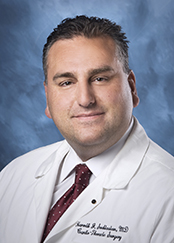 Soukiasian, professor and vice chair in the Cedars-Sinai Department of Surgery and chief of the Division of Thoracic Surgery, joined Cedars-Sinai in 2008 from the University of Pittsburgh Medical Center, where he completed his fellowship training.
"Creation of this chair reflects the Tawil family's inherently generous nature and dedication to helping others," Soukiasian said. "This support enables us to leverage Cedars-Sinai's research enterprise and pave the way for bench-to-bedside breakthroughs in our understanding of lung and esophageal cancer so wecan deliver curative approaches based on the latest scientific advances."
Soukiasian is credited with ushering in robotic thoracic surgery at Cedars-Sinai, including performing the medical center's first robotic lobectomy (surgically removing a lobe of the lung).
"Harmik is one of the most innovative thoracic surgeons nationwide and his adoption and refinement of technology—such as robotic surgery and intrapulmonary localization of lesions—has greatly advanced the field," said Bruce Gewertz, MD, surgeon-in-chief and chair of the Department of Surgery. "As a leader, he has recruited and mentored some of the country's finest, young thoracic surgeons, while building one of America's busiest robotic thoracic surgery programs."
Soukiasian believes that the ever-evolving role of robotic technology demands a focus on the future. "One of our missions in the Division of Thoracic Surgery is to train the next generation of leaders in this specialty. As a result of our robust robotic surgery program, we've been able to establish an Advanced Robotic Thoracic Surgery Fellowship for those who will propel this field for decades to come."
Soukiasian's standout skills and Cedars-Sinai's expanding expertise in the robotic thoracic surgery field caught the attention of the Tawil family, who made the recently established chair possible. In a statement, the family shared their motivations.
"We've had many conversations with Dr. Soukiasian about the incredible work being done at Cedars-Sinai to improve patients' lives. We were particularly impressed by the innovations in thoracic surgery and the use of minimally invasive robotic surgery, enhancing positive surgical outcomes and easing the recovery process for patients. We are truly humbled to be able to play a supporting role in the important work that Cedars-Sinai is doing."
Soukiasian said the endowment will help achieve the overarching goal of "pioneering a comprehensive cancer-care continuum that includesidentifying a tumor's genetic mutations that are susceptible to targeted therapy and also utilizing the latest robotic surgeries to pave a new road to improved outcomes and cures for patients with cancer."