Trento Wins Pioneer in Medicine Award
In the late 1980s, Cedars-Sinai embarked on a search for a cardiac surgeon to launch a heart transplant program at the medical center. Cedars-Sinai ultimately hired Alfredo Trento, MD, an up-and-coming, Italian-born physician from the faculty at the University of Pittsburgh School of Medicine, then home to the nation's biggest heart transplant center.
Today, Cedars-Sinai performs more heart transplants than anywhere else in the country. Much of the credit for that rise goes to Trento who, at 71, remains a towering figure in the field of cardiac surgery.
For his accomplishments, Trento has been named the winner of Cedars-Sinai's Pioneer in Medicine Award for 2021. The annual honor, which was started in 1982, goes to physicians who have played major roles at the medical center and who also have gained national recognition for clinical contributions. The award was presented to Trento, the Estelle, Abe and Marjorie Sanders Chair in Cardiac Surgery, on Monday, Oct. 18.
Colleagues describe Trento as a masterful surgeon and a gracious friend who enjoys cooking, entertaining, travel and collecting art with his art historian wife, Robin Trento. He also is admired for the lifesaving heart surgeries he charitably has performed on children during annual medical missions to Ecuador and on ailing youngsters brought to Cedars-Sinai from Latin America.
Wen Cheng, MD, a professor in the Department of Cardiac Surgery and director of the Thoracic Surgery Residency Program, said one of his career's highpoints came when Trento asked him to assist in surgery on about 20 children on one of the Ecuador trips.
The young patients "all did great," Cheng said. As for Trento, he said, "His humanity, his capability, teamwork and leadership are all unbelievable."
Trento, director emeritus of Cardiothoracic Surgery and a professor of Surgery at both Cedars-Sinai and UCLA, is known for the expertise in heart transplants and pediatric cardiac surgery that he brought to Cedars-Sinai after arriving in 1988. In addition, Trento pioneered a heart transplant surgical technique, bicaval anastomosis, that has become standard practice worldwide.
Today, Trento doesn't do as many transplants but remains an internationally renowned heart surgeon. He is a leader in minimally invasive heart surgery, especially in robotically assisted repairs of the mitral valve, a crucial, small valve on the left side of the heart that prevents blood from leaking backward.
In those robotically assisted operations, "he's as good as anybody in the world right now," said Robert M. Kass, MD, a retired Cedars-Sinai assistant director of Cardiothoracic Surgery.
Jon Kobashigawa, MD, the director of the Heart Transplant Program and of the Advanced Heart Disease Section, also praised Trento. "He's great at what he does. The patients come out pristine," he said.
Kobashigawa said other transplant surgeons look to Trento as a mentor. "He's the go-to guy if people are having trouble or have questions. They'll go to him and seek guidance."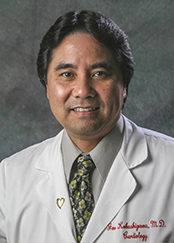 At Cedars-Sinai, while Trento was launching the heart transplant program, he also was building the pediatric cardiac surgery program. When he looks back at that time in his life, Trento said, he sometimes thinks, "Wow, how did I do that?"
"The time involvement was enormous," he explained. "There were not many people who had the experience to take care of these patients, so I would find myself very often at the bedside.
"In those years, I would do the transplant, and then go to the intensive care unit and stay with the patient for a few hours to make sure that things were fine," he added. "The transplants were very often late evening or night. And then maybe the next day I would be doing a baby's open heart surgery, and that also required me to be at the bedside."
Trento calls his and Robin's four adult children the couple's "greatest accomplishment," and takes pride in their being "good people" who "have good families." Still, he said, "I always tell my kids I'm so sorry I didn't make it to many of your milestone events" when they were young, because he was caring for patients. One of those children, Luca Trento, followed his father's footsteps into medicine and today practices pediatric cardiology in the Sacramento area.
Trento grew up about an hour's drive inland from Venice, Italy, where his family prospered in the construction materials business. He did his undergraduate and medical school studies at the University of Padua, where he met Robin, an exchange student from UCLA at the time.
Interested in how medicine was practiced in the U.S., Trento came to the University of Massachusetts Medical Center, where he stayed for his internship and residency in general surgery and then for postdoctoral research in cardiothoracic surgery. Later, he went to the University of Pittsburgh Medical Center, where he became an assistant professor of Surgery and was part of what was one of the nation's first heart transplant programs. "All of a sudden, I was working on the cutting edge of cardiac surgery," Trento said.
When Cedars-Sinai decided to launch a heart transplant program of its own, it provided a better upward career path for Trento and a much-wanted return to California for Robin, who had grown up in Santa Monica. "I was lucky," he said.
Current and former colleagues at Cedars-Sinai describe Trento as supportive and loyal to his staff. Kass witnessed Trento's loyalty as a friend nearly 20 years ago when they traveled together with their wives to Florence, Italy, for a medical conference. Trento was chosen to moderate a session in which Kass was speaking.
Before the session began, though, Kass suffered a heart attack. Trento had headed to the conference separately after touring a museum but, as soon as he arrived and heard about what had happened to Kass, he left and took a taxi across town to be by his friend's side.
Kass was discharged from the hospital after three days, but given only a day's supply of the medicine he needed. So, Trento scrambled to get Kass more of the medication and took Kass to his mother's home outside of Venice for recuperation. Trento stayed with him for a few more days until Kass was well enough to fly home.
"The fact that he did all of those things for me has put me forever in his debt," Kass said, "and that's the way he treats all of his patients."
Kobashigawa noted a time about four years ago when a number of hearts became available for transplantation but several of the transplant surgeons were on vacation. He said Trento stepped in and performed seven transplants over seven straight days.
"At the end of those seven days, I said, 'Dr. Trento, this was amazing,'" Kobashigawa recalled. "He looked at me and smiled and said, 'Any more to do?'"
Trento, he added, "truly loves what he does."