Two Neurosurgery Postdocs Win Malaniak Award
Two investigators delving into the nervous system's control of movement and memory have won this year's Cedars-Sinai Bohdan (Danny) Malaniak Award for Excellence in Postdoctoral Research.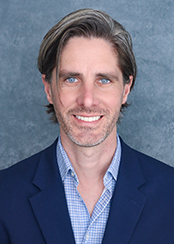 The winners, Juri Minxha, PhD, and Clayton Mosher, PhD, were selected by a panel of Cedars-Sinai investigators from among four finalists based on the scientific content, originality and clarity of their abstract presentations at a Jan. 26 event, held remotely.
Minxha and Mosher are both from the laboratory of Ueli Rutishauser, PhD, director of Human Neurophysiology Research, professor of Neurosurgery, Neurology and Biomedical Sciences and Board of Governors Chair in Neurosciences at Cedars-Sinai.
Minxha won for research published in Science, "Flexible Recruitment of Memory-Based Choice Representations by the Human Medial FrontalCortex." Mosher won for his findings published in Neuron, "Distinct Roles of Dorsal and Ventral Subthalamic Neurons in Action Selection and Cancellation."
Mosher, the article's co-first author, explained that his study focused on identifying nerve cells that can control unwanted movements in patients with Parkinson's disease.

One way to help control the tremors associated with Parkinson's disease is to implant a deep brain stimulating electrode. "During surgery, we recorded neural activity to find the best placement for this electrode," he said. "Patients were awakened in the middle of surgery and asked to initiate and then stop a movement. We were able to track how the neurons responded and found evidence that specialized neurons called 'stop neurons' can help cancel actions—the first such neuronal evidence in humans."
The study's findings potentially could help optimize treatment of Parkinson's disease patients while minimizing unwanted side effects, according to Mosher. Future studies are aimed at identifying stop-action neurons in other patient populations. He thanked Rutishauser, his advisor and the study's senior author, and co-first author Adam Mamelak, MD, director of Cedars-Sinai's Functional Neurosurgery Program and professor of Neurosurgery," both of whom made it possible for me to participate in recording thisunique and exciting data."

Co-winner Minxha discussed his study's focus on how individual cells function in creating and retrieving memories.
"We were able to record activity of individual cells inthe brains of patients with intractable epilepsy, while they were engaged in short, especially designed games and tasks," he explained. "Then we asked the participants to retrieve specific memories related to the tasks." Using this process, the investigators identified populations of cells in the brain's medial frontal cortex that were very active only during memory retrieval.
Follow-up studies are needed to determine if and to what degree these cells are specialized for memory retrieval and to possibly further identify these cells, said Minxa, the study's first author. He gave special thanks to Mamelak; Chrystal Reed, MD, PhD, director of Cedars-Sinai's Neurophysiology Fellowship Program and assistant professor of Neurology; Jeffrey Chung, MD, FAAN, director of the Epilepsy Program and associate professor of Neurology; and Rutishauser, senior author of the study.
Stephanie Bora, PhD, a postdoctoral fellow in the Chen Lab, and Predrag Jovanovic, PhD, a postdoctoral fellow in the Riera Lab, were also finalist presenters this year.
Now in its 14th year, the award—named after the late Danny Malaniak, an avid research proponent and longtime member of Cedars-Sinai's leadership team—was created to foster basic and translational research.
"Cedars-Sinai's annual recognition of the research performed by our postdoctoral scientists perpetuates Malaniak's legacy," said Odelia Cooper, MD, chair of the Malaniak Award Committee and associate professor of Medicine. "I would like to express appreciation to our institution for its continued support of research through the upheaval during the past year caused by the COVID-19 pandemic."
The Malaniak Award event is supported by the Burns and Allen Research Institute and the Clinical and Translational Science Institute at Cedars-Sinai.