COVID-19 Patients Twice as Likely to Die During Winter 2020
People who became sick with COVID-19 during a surge of cases in the winter of 2020 were more than twice as likely to die than people who became sick before and after the surge, according to an analysis of hospital data by Cedars-Sinai investigators.
The findings, published in BMC Infectious Diseases, underscore the importance of public health measures meant to avoid a wide swath of the population from becoming sick at the same time.
"An overwhelming number of COVID-19 cases can prevent the healthcare system from providing the highest level of care to everyone," said Joseph E. Ebinger, MD, a clinical cardiologist, director of Clinical Analytics at the Smidt Heart Institute and first author of the study. "We have really strong data that show what we do as individuals to decrease the rapid spread of the virus that causes COVID-19 makes it easier for the healthcare system to treat those who become sick."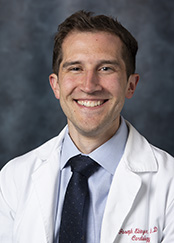 Ebinger and colleagues reviewed the medical records of more than 7,000 people who received outpatient or inpatient care for COVID-19 within the Cedars-Sinai Health System between August 2020 and May 2021. They reviewed data from three time periods: pre-surge (August 25, 2020, to November 7, 2020), surge (November 8, 2020, to February 22, 2021) and post-surge (February 23, 2021, to May 8, 2021).

Despite a rapid increase in the number of patients with COVID-19 during the winter of 2020, Cedars-Sinai was able to care for all patients who sought services. A total of 536 patients were diagnosed with COVID-19 during the pre-surge period, 6,372 during the surge period and 480 during the post-surge period. There were 11 deaths during the pre-surge period, 385 during the surge period and 16 during the post-surge period.
The investigators found that people who were treated during the surge period were 2.64 times more likely to die from COVID-19 than people who received care during the pre-surge and post-surge periods. The risk of dying corresponded with an increase in patient volume during the surge period. This was true even after the investigators analyzed data based on factors such as sex, race, ethnicity, hypertension, diabetes, and other preexisting illnesses and conditions.
People who sought care during the surge period, however, were more likely to have severe illness.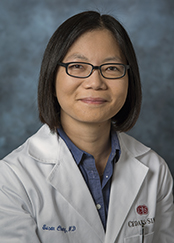 "It may be that people delay seeking care or have trouble accessing care when demand far exceeds supply," said Susan Cheng, MD, MPH, director of the Institute for Research on Healthy Aging in the Department of Cardiology at the Smidt Heart Institute and senior author of the study. "The bottom line is that surges are bad for patients and hospitals alike," added Dr. Cheng, who is also the Erika J. Glazer Chair in Women's Cardiovascular Health and Population Science and a professor of Cardiology.
The investigators defined a case fatality as a death that occurred during hospitalization or up to 30 days from time of discharge. For patients who were not admitted to the hospital, they defined a case fatality as a death occurring within 30 days of being diagnosed with COVID-19.
"Cedars-Sinai is on the leading edge of being able to reallocate space and provide unique resources," Ebinger said. "But even with those abilities, an overwhelming volume of sick people at your door really increases the risk for people who show up for care."
Other Cedars-Sinai investigators who worked on this study are Roy Lan; Matthew Driver, MPH; Nancy Sun, MPH; Patrick Botting, MSHS; Eunice Park; Tod Davis; Margo B. Minissian, PhD; Bernice Coleman, PhD; Richard Riggs, MD; and Pamela Roberts, PhD.
Funding: The study was funded by Cedars-Sinai Medical Center, the Erika J. Glazer Family Foundation and grants from the National Institutes of Health under award numbers U54-CA260591 and K23-HL153888.