Fatty Pancreas Can Cause Pancreatic Cancer
Fat accumulation in the pancreas is an understudied condition that can lead to pancreatic cancer, according to a new paper by Cedars-Sinai investigators published in EBioMedicine, which is part of The Lancet Discovery Science suite of journals.
Pancreatic steatosis involves the infiltration of fat into the pancreas or pancreatic inflammation. Its worldwide prevalence has nearly tripled from 1975 to 2016, according to the World Health Organization—a trend that has been linked to rising obesity rates. Studies report anywhere from 10% to 58% of the worldwide population may have pancreatic steatosis.
"Unlike nonalcoholic fatty liver disease, which is really well studied, pancreatic steatosis is unexplored and lacks guidelines for diagnosis and treatment," said Emily Truong, MD, lead author of the paper and an internal medicine resident physician. "Understanding what causes pancreatic steatosis and how those same mechanisms might lead to pancreatic cancer is extremely important because these mechanisms might explain other obesity-driven cancers."
Truong authored the paper with Stephen Pandol, MD, professor of Medicine, director of Basic and Translational Pancreas Research and program director of the Gastroenterology Fellowship Program, and Christie Y. Jeon, ScD, research associate professor of Medicine.
The paper reviews 70 published epidemiological and animal studies and summarizes what is currently known about pancreatic steatosis.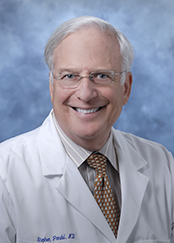 The authors describe two main mechanisms thought to cause pancreatic steatosis. One occurs when the healthy cells in the pancreas that aid nutrient digestion die and are replaced with fat cells. Some of the factors associated with this process include alcohol abuse, liver disease, congenital diseases such as cystic fibrosis, malnutrition, certain medications and some viral infections, according to the authors.
The second mechanism that scientists have described in the literature involves fat from other parts of the body overflowing into the pancreas. Studies have found an association between fat deposition in the pancreas and higher levels of visceral fat, which wraps around the body's organs.
The exact manner in which pancreatic steatosis develops, however, is still largely unknown, according to Truong. Effective treatments are also little understood, although studies have reported that bariatric surgery may reduce pancreatic fat infiltration.
The authors call for more research to investigate biological signs of pancreatic steatosis and its underlying molecular mechanisms, as well as clinical trials that compare methods for diagnosing the disease.
"By elucidating the key mechanisms around the tumor microenvironment, we hope to explore how different therapies, treatments and even lifestyle changes might alleviate pancreatic steatosis and the development of pancreatic cancer," Truong said.