Health of Gut Microbiome: Hormone Therapy and Smoking
Postmenopausal women receiving hormone therapy (HT) had changes in their small intestinal microbiome associated with a reduction in the risk for cardiovascular disease (CVD), according to investigators from the Medically Associated Science and Technology (MAST) program at Cedars-Sinai. The findings were published in the journal Menopause.
"The duodenal microbiome in women who were post menopause and taking HT was more similar to that of reproductive age women. There was an increase in the relative abundance of phylum Bacteroidetes and genus Prevotella, both of which are associated with a reduction in the risk for heart disease. Women on hormone therapy also had similar microbial diversity, fasting glucose levels, and testosterone levels to younger women in the study," said endocrinologist Ruchi Mathur, MD, the principal investigator of the study.
By comparison, the small intestinal microbiome of postmenopausal women who were not receiving HT revealed higher relative abundances of pathogenic bacteria associated with greater risks for CVD in previous studies.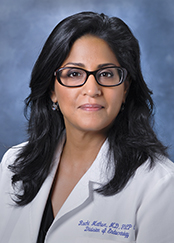 "Our study does suggest that hormone therapy after menopause may offer women protection through its impact on the small intestinal microbiome. These findings are preliminary and do not prove causality, so more work is needed. Identifying hormonal impacts on the gut, down to bacterial species and strain levels, could lead to potential interventions," said Mathur, director of Clinical Research for MAST.
A second investigation of the small intestinal microbiome by the MAST documented the negative impact smoking has on the composition of the microbiome. However, refraining from smoking for a long period of time appears to significantly diminish these changes.
In a study published in the Scientific Reports, investigators compared and characterized the composition of the duodenal luminal microbiome of current smokers, people who had never smoked tobacco, and those who were once smokers but had abstained for 10 years or more.
"Small intestinal microbes play critical roles in digestion, nutrient absorption and even immune regulation. We found that smoking was associated with lower diversity of microbes and significantly higher amounts of unfavorable organisms in the duodenum, when compared to non-smokers or former smokers," said Gabriela Leite, PhD, a project scientist with the MAST program and first author of the study.
There was some encouraging news for former smokers.
"Many of the negative changes that we saw in the duodenal microbiome of current smokers appeared to be significantly less pronounced, and in some cases absent, in participants who had quit smoking for 10 years or more. In fact, the duodenal microbial profile was more like that of people in the study who had never smoked at all," said Mathur, the principal investigator.
In a study published in Cell Reports last year, Mathur and the MAST team found that aging produces significant changes in the human small intestinal microbiome distinct from those caused by medications or illness burden. 
"While these three studies provide information on very different aspects of human health, they provide insights as to how the small intestinal microbiome is sensitive to human patterns of behavior and circumstance. Understanding this interplay is important as we move ahead in our research," Mathur said.
The microbiome research is based on data from Cedars-Sinai's ongoing REIMAGINE study: Revealing the Entire Intestinal Microbiota and its Associations with the Genetic, Immunologic, and Neuroendocrine Ecosystem.
Funding: Mathur is supported in part by the Monica Lester Charitable Trust and the Elias, Genevieve, and Georgianna Atol Charitable Trust.