History of Migraines Points to Adverse Pregnancy Outcomes
New research led by the Smidt Heart Institute at Cedars-Sinai found pregnant women who reported a history of migraines had 26% higher rates of adverse pregnancy outcomes, particularly hypertensive disorders and preterm birth. The findings were recently published in the American Journal of Obstetrics and Gynecology (AJOG).
"We now know migraines may be an underrecognized risk factor for adverse pregnancy outcomes," said Natalie Bello, MD, MPH, director of Hypertension Research in the Smidt Heart Institute and senior author of the study. "The reason for these associations remains unclear, but we suspect they might be related to pathways of inflammation, blood vessel dysfunction or increased risk for blood clots."
Two of the most common hypertensive—or high blood pressure—disorders during pregnancy are preeclampsia, which is a serious high blood pressure condition that develops during pregnancy or just after delivery, and gestational hypertension, which is when a woman's blood pressure is newly elevated during pregnancy. Both conditions are known to increase a woman's risk of heart disease, heart failure and stroke later in life.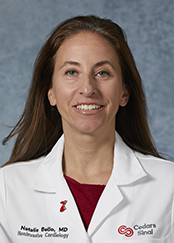 Data from the AJOG publication was collected through the National Institutes of Health (NIH)-funded multicenter Nulliparous Pregnancy Outcomes Study: Monitoring Mothers-to-Be (nuMoM2b). The nearly 10,000 women who enrolled in the study were followed throughout their pregnancy, labor and delivery.
In their first trimester, the women were asked if they had a personal history of migraine headaches, which may have predated pregnancy. Researchers defined adverse pregnancy outcomes as either gestational hypertension, preeclampsia or eclampsia, preterm birth, delivery of a small-for-gestational-age infant or stillbirth.
The research team then compared characteristics between participants who did and did not report migraine, including demographics, family history of preeclampsia and comorbidities such as obesity, recent smoking, chronic hypertension, chronic kidney disease, pregestational diabetes and autoimmune disorders.
Of the 9,450 participants with complete data, 19.1% reported a diagnosis of migraine at their first visit. Those study participants were more likely to report they had recent smoking history, autoimmune disorders and chronic kidney disease.
Study participants who reported a history of migraines also had higher chances of developing any hypertensive disorders of pregnancy, as well as both medically indicated and spontaneous preterm birth.
There were no significant interactions between migraine history and obesity, chronic hypertension or diabetes. Sensitivity analyses showed a larger effect in participants who reported recent use of medication for migraine.
Funding: Bello is supported by the NIH National Heart, Lung and Blood Institute (K23-HL136853, R01-HL153382) and the NIH Loan Repayment Program (1L30HL129418-03).