Meet Postdoc Maria Jesus Villanueva Millan, PhD
Meet Our Postdocs is an occasional series featuring our postdoc students.
Maria Jesus Villanueva Millan, PhD, is a postdoc scientist in the Medically Associated Science and Technology Program, which is led by Mark Pimentel, MD, an associate professor of Medicine. Villanueva investigates gut microorganisms related to hydrogen sulfide and methane production to help understand their role in health and disease.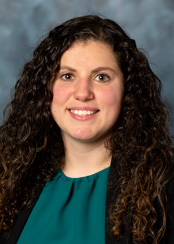 In her time at Cedars-Sinai, she has identified specific microorganisms that may drive different subtypes within irritable bowel syndrome. Her work was recently showcased at the annual Digestive Disease Week conference, a premier meeting for physicians, researchers and industry professionals in the fields of gastroenterology, hepatology, endoscopy and gastrointestinal surgery.
What inspired you to become a scientist?
I have always been very curious. For example, my mom bought me a cheap microscope and I liked to look closer at things I found in my yard. But what ultimately drove me toward medical research was my grandfather. He had heart disease, and he went through a lot, including a heart transplant. Since then, I've dedicated my life to helping improve other peoples' quality of life and health.
What has been your greatest challenge?
As a scientist, one of the biggest challenges we have is translating meaningful results into publications. I will say that my greatest personal challenge has been to move far from my family and my home country of Spain to follow my career.
In the future, what do you hope happens in your science career?
I would like to keep growing as a researcher along with my team and continue to progress in my research in gastrointestinal disorders. I also would like to help develop treatments and devices to improve the lives of our patients.
If it wasn't for science, what else would you see yourself doing?
I would love to work with animals! I could see myself working as a rehabilitative veterinarian helping injured wild animals like birds, mammals or sea animals heal so they can be released into their habitat again.