Prostate Cancer Patients Want Detailed Life Expectancy Information
Men diagnosed with prostate cancer prefer physicians to explain their life expectancy in quantitative terms—either as a number of years or as a probability of living at a time point—according to a new study by Cedars-Sinai investigators. 
Life expectancy is a crucial factor in deciding whether men should get aggressive treatment like surgery or radiation for prostate cancer.
"Prostate cancer is a disease that affects older people, and it's a very slow-growing cancer," said Timothy J. Daskivich, MD, MSHPM, assistant professor of Surgery in the Cedars-Sinai Department of Urology and first author of the study. "A lot of people will die with the disease rather than from the disease."
Daskivich's previous research has shown that 40% of men in the U.S. with early-stage prostate cancer and with a life expectancy of less than 10 years often undergo radiation therapy or surgery, which goes against medical guidelines. This is important since half of men diagnosed with prostate cancer over the age of 65 in the U.S. have a life expectancy of less than 10 years.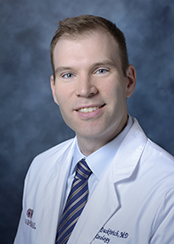 "There is some evidence to suggest this is because patients are not well-informed about life expectancy when making treatment decisions. However, little data exists on how life expectancy should be ideally communicated to patients," said Daskivich, who is also director of Health Services Research for the Cedars-Sinai Department of Surgery.

To study this issue, Daskivich and colleagues conducted interviews with 26 men after they had discussed prostate cancer treatment options with a urologist, medical oncologist or radiation oncologist. The findings are published in JAMA Surgery.  
Most of the study participants said they would prefer their physician describe their life expectancy as a number of years ("you'll live until 90") or as a survival probability ("you have a 20% probability of living 15 years") rather than as a generalization ("you have a long life expectancy").
The men's ages ranged from 60 to 72. There were no differences in preferences between men expected to live less than 10 years or longer than 10 years.
The study participants also said anxiety was a possible barrier to discussing life expectancy with their doctor. More than half said clinicians could reduce anxiety by using a range of years when discussing individual life expectancy and by using depersonalized language such as "for patients like you."
Three quarters of participants also noted having low or moderate confidence in life expectancy estimates. However, they said physicians could improve confidence by explaining how life expectancy was calculated or mentioning health status, not just age, was considered in the estimate.
"What this study showed is that patients with cancer that's affecting them later in life want to understand their risks of dying from cancer or from other causes so they can make a better treatment decision," Daskivich said.
The authors noted that one limitation of this study is that the sample was drawn from a well-educated, health-literate population. Future studies will need to include men with low health literacy or numeracy, men who don't speak English, and men at different stages of the disease, they said. The investigators also plan to compare these preferences with how doctors actually communicate life expectancy in consultations.
Funding: Research reported in this study was supported by a Career Development Award from the National Cancer Institute.