Fellows
The individuals listed currently hold Center for Neural Science and Medicine postdoctoral award fellowships, which provide independent funding for exceptionally well qualified and innovative postdoctoral scientists working in a neuroscience laboratory at Cedars-Sinai. Two fellowships are awarded annually in response to an open call.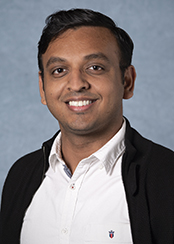 Mohammad Aamir Abbasi, PhD
Postdoctoral Fellow
I have a background in neuroscience and biomedical engineering. I completed my PhD in 2019 at Paris-Saclay Institute of Neuroscience (Neuro-PSI), affiliated with the National Center for Scientific Research (CNRS); and the University of Paris, France. During my PhD research, I developed a closed-loop intracortical brain-machine interface (BMI) setup by combining electrophysiology for motor readout and patterned optogenetics for somatosensory feedback. Using this BMI, I demonstrated the causal role of somatosensory cortical maps in neuroprosthetic learning. My current project in the Gulati Lab at the Cedars-Sinai Center for Neural Science and Medicine (CNSM) involves studying the interplay between the motor cortex and the cerebellum during neuroprosthetic learning in healthy and stroke- injured rodents.
Sarah McCallum, PhD
Postdoctoral Fellow
I am a postdoctoral scholar in the Burda Lab studying glial cells, which are essential for nervous system development, function and repair after injury. I received my master's at the National Institute for Medical Research and earned my doctorate at the Francis Crick Institute. I developed a novel in vivo, spatially restricted CRISPR/Cas9 methodology to specifically modify astrocyte gene expression in defined tissue regions of the injured mouse spinal cord to experimentally manipulate novel molecular pathways implicated in neural repair. My research aims to characterize naturally occurring, astrocyte-mediated repair mechanisms that can be therapeutically targeted to enhance neurological recovery and limit disability after a spinal cord injury and other central nervous system injuries.

Stephen Meisenhelter, PhD
Postdoctoral Fellow
Stephen Meisenhelter is a postdoctoral scientist in the Department of Neurosurgery at Cedars-Sinai. His research, conducted under the guidance of Dr. Ueli Rutishauser, focuses on the neurophysiology of epilepsy and cognition. Stephen grew up in Aberdeen, New Jersey, before moving west to obtain a BS in bioengineering at the California Institute of Technology. Soon after, he joined Dr. Barbara Jobst's Epilepsy and Cognition Lab at Dartmouth College, where he completed his doctorate in 2020. In his free time, Stephen enjoys hiking, skiing and exploring Los Angeles. Juri Minxha, PhD
Postdoctoral Fellow
I am a postdoctoral scholar in the Rutishauser Lab at Cedars-Sinai, probing human cognition using single-cell electrophysiology. As an undergraduate, I studied electrical engineering at Brown University before enrolling in the Computation and Neural Systems graduate program at the California Institute of Technology. At Cedars-Sinai, I am studying the neural mechanisms that allow us to form abstract representations of the world around us. Through abstraction, we can effortlessly generalize our knowledge to novel situations. In the lab, I record activity from individual cells in many regions of the human brain in order to observe how these kinds of representations are acquired through learning. In addition to the data-driven approach, we develop computational models to better understand how these mechanisms operate in health and disease.
Have Questions or Need Help?
Contact us if you have questions, or wish to learn more about neural science and medicine research at Cedars-Sinai.
Pavilion
127 S. San Vicente Blvd., Suite A6600
Los Angeles, CA 90048