By joining Cedars-Sinai, students can expect to be prepared for distinguished and dynamic medical careers in pursuit of the highest-possible standard of patient care. There are currently 837 medical student rotations at Cedars-Sinai, including 472 UCLA students and 329 visiting students from other accredited US medical schools, 32 students from podiatry schools, and 4 students from other health professional institutions. Cedars-Sinai is passionate about our commitment to advance scientific knowledge, instilling compassion and respect, and providing every possible tool and opportunity for medical students to receive a well-rounded medical education.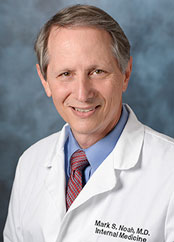 A Message from the Associate Dean
We are committed to supporting the educational mission of Cedars-Sinai. Our goal is for each medical student to achieve his or her highest potential to learn, lead, serve and to provide the finest compassionate care for patients.
---
Mark Noah, MD
Associate Dean of Medical Education
Director, Medicine Residency Training Program

Student Research Electives and Internships
---
Our array of student electives offers a variety of experiences across multiple disciplines.
Anesthesiology
Emergency Medicine
Internal Medicine
Neurological Surgery
Neurology
Obstetrics & Gynecology
Orthopaedic Surgery
Pediatrics
Psychiatry
Radiation Oncology
Surgery
Cedars-Sinai

Diversity Equity and Inclusion Program
---
Arthur I. Johnson, MD, Visiting Clerkship Scholarship
The goal of this program is to increase medical student awareness of opportunities in academic and community medicine. We seek to support 20 qualified fourth-year students from historically underrepresented minority groups and from socioeconomically disadvantaged backgrounds. Overall, this program will improve student exposure to Cedars-Sinai and graduate medical leadership and increase the number of students applying to training programs.
Have Questions or Need Help?
Medical Education Office
700 N. San Vicente Blvd., Suite G532
West Hollywood, CA 90069