Liver and Kidney Program
Mission
---
The mission of the Liver and Kidney Program at Cedars-Sinai Regenerative Medicine Institute is to develop:
Stem cell-based regeneration approaches for the treatment of hepatitis C and alcoholic liver disorders
Treatments for diabetes mellitus that will also benefit patients with other types of diabetes
Focus of Liver Research
---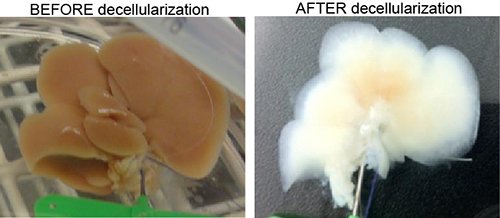 The liver is the second most commonly transplanted organ in the United States. However, there are an estimated 16,500 people awaiting a liver transplant at any given time and only 3,000 available organs. Most liver damage is due to the hepatitis C virus (HCV).
Our research focus is on rejuvenating the damaged liver without requiring transplantation. This approach could provide the medical community an additional treatment option for managing patients with disorders of the liver, including HCV.
Regenerative Medicine liver researchers can generate functional liver cells from pluripotent stem cells, including iPSCs. The human stem cell-derived hepatic cells have been shown to extend the survival of mice with liver damage and do not produce any adverse events, including teratoma formation. This cell therapy is translatable to clinics as an individualized patient-specific treatment.
Our research is also focusing on engineering an artificial liver using natural or synthetic scaffold materials.
Collaborative Research
---
The Regenerative Medicine Liver and Kidney Program is collaborating with other Cedars-Sinai departments and institutes including the Department of Surgery, Comprehensive Transplant Center, and Diabetes and Obesity Research Institute on artificial organ devises and diabetes model systems.
Through an interdisciplinary collaboration, liver research investigators have also developed a robust methodology to improve gene engineering in stem cells, which provides the option of generating disease-specific therapeutic stem cell lines.
Finally, liver research investigators are partnering with industry to assess leading-edge technology using scaffolding to generate artificial livers.
Have Questions or Need Help?
Contact us if you have questions, or wish to learn more about the Board of Governors Regenerative Medicine Institute.
Board of Governors Regenerative Medicine Institute
Pavilion, Eighth Floor
8700 Beverly Blvd.
Los Angeles, CA 90048