The Al-Louzi Laboratory conducts research to identify the causes of visual loss and clinical disability in multiple sclerosis (MS), neuroimmunology and neurological disorders. To achieve this goal, the Al-Louzi Laboratory is focused on human clinical and translational research using functional and retinal structural imaging, in combination with cutting-edge technological advances in magnetic resonance imaging (MRI), to examine pathological changes in the visual pathway and study their association with relevant clinical disease outcome metrics and pathobiological processes.
The overarching goal of the Al-Louzi Laboratory is to find ways to mitigate or prevent visual and clinical disability from neurological illness before it occurs. The Al-Louzi Laboratory is affiliated with the Cedars-Sinai Department of Neurology & Neurosurgery and the Neuroimaging Program.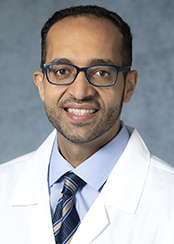 Personal Statement
My research interest focuses on studying visual and MRI biomarkers in MS and neuroimmunological disorders. Our lab focuses on clinical and translational research using the visual pathway as a model for central nervous system tissue injury and repair in neuroscience."

---
Omar Al-Louzi, MD
Breakthrough Research Areas
Visual functional and structural injury as a marker of disease progression in multiple sclerosis
Modeling retinal neurodegeneration using optical coherence tomography
Examining the central vein sign (CVS) as a marker of perivenular inflammation using advanced magnetic resonance imaging (MRI)
Implementing machine-learning methodology for automated MRI analysis
Meet Our Team
---
Learn more about the scientists, faculty members, investigators and other healthcare professionals of the Al-Louzi Laboratory, whose dedicated efforts lead to groundbreaking discoveries.
Al-Louzi O, Roy S, Osuorah I, Parvathaneni P, Smith BR, Ohayon J, Sati P, Pham DL, Jacobson S, Nath A, Reich DS, Cortese I.
PubMed Central PMCID: PMC7708929
Al-Louzi O, Button J, Newsome SD, Calabresi PA, Saidha S. 
Mult Scler. 2017 Jun;23(7):1035-1039.
Al-Louzi OA, Bhargava P, Newsome SD, Balcer LJ, Frohman EM, Crainiceanu C, Calabresi PA, Saidha S.
Mult Scler. 2016 Mar;22(3):362-72