The Bello Laboratory focuses on understanding the mechanisms driving the associations between hypertensive disorders of pregnancy and elevated risk of cardiovascular disease. We are also developing targeted therapeutics and designing clinical trials powered to evaluate cardiovascular risk reduction in women with a history of preeclampsia.
The Bello Laboratory is affiliated with the Smidt Heart Institute at Cedars-Sinai.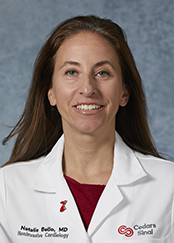 Personal Statement
As the director of Hypertension Research, my professional activities include direct patient care in hypertension and cardiovascular imaging. I am a board-certified cardiologist and NIH-funded physician-scientist with a program of investigation focused on elucidating and ameliorating the effects of hypertensive disorders of pregnancy and other adverse pregnancy outcomes.
---
Natalie A. Bello, MD, MPH
Meet Our Team
---
Learn more about the scientists, faculty members, investigators and other healthcare professionals of the Bello Laboratory, whose dedicated efforts lead to groundbreaking discoveries.

Makarem N, Chau K, Miller EC, Gyamfi-Bannerman C, Tous I, Booker W, Catov JM, Haas DM, Grobman WA, Levine LD, et al.

JAMA Netw Open. 2022 Dec 1;5(12):e2248165.

Bello NA, Bairey Merz CN, Brown H, Davis MB, Dickert NW, El Hajj SC, Giullian C, Quesada O, Park K, Sanghani RM, et al.

J Am Coll Cardiol. 2021 Apr 13;77(14):1813-1822.

Bello N, Rendon ISH, Arany Z.

J Am Coll Cardiol. 2013 Oct 29;62(18):1715-1723.

Contact the Bello Lab
127 S. San Vicente Blvd.
Pavilion, Suite A3100
Los Angeles, CA 90048