Bhowmick Laboratory studies stromal-epithelial interactions in cancer development, with a focus on prostate cancer. Our overall hypothesis is that the host impacts cancer progression; thus, addressing the host response to cancer can provide effective therapeutic and possibly preventative targets. The laboratory developed an alternative to the familiar "two-hit hypothesis" of at least two independent somatic mutations in a cell mediating its malignant progression, whereby a genomic mutation in the epithelia can be associated with epigenetic changes in the adjacent fibroblastic cells.
The Bhowmick Laboratory identified that stromally-derived paracrine signals can mediate the initiation of cancer. Interestingly, a number of stromally-derived host factors serve to predict clinical outcome of cancer patients. Multidisciplinary collaborations,often applying clinically relevant animal models developed in the lab have been used for interrogating signaling mechanisms and pre-clinical therapeutic development.
The Bhowmick Laboratory is affiliated with the Samuel Oschin Comprehensive Cancer Institute and Medicine Department.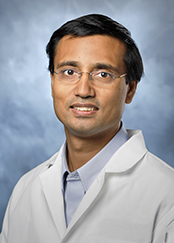 Personal Statement
I trained in structure-function biology of luteinizing hormone-receptor interactions, and went on to identify how stromal fibroblasts and associated cancer cells communicate via transforming growth factor-ß signaling. These experiences have helped our laboratory identify targets for intervention that can serve to support sensitivity to current cancer cell targeted therapies. Applications of these concepts have resulted in testing in cytokine and metabolic regulators in clinically relevant animal models of prostate, lung, renal, colon, pancreatic and bladder cancer. We are excited about the cross-disciplinary collaborations that have enabled us to interrogate signaling mechanisms and therapeutic development for cancer patients.


---
Neil Bhowmick, PhD
It introduced the concept that fibroblasts in the tumor microenvironment can contribute to paracrine-mediated tumor initiation, particularly resulting from alterations in TGF-ß signaling.
Several stromally derived host factors serve to predict clinical outcomes of cancer patients and found to contribute to therapeutic resistance in many cancer types.
The amino acid, glutamine, can serve as a signaling molecule in stromal-epithelial communication in promoting neuroendocrine differentiation of prostate cancer cells and resistance to androgen-targeted therapy.
Mitochondrial DNA secreted from cancer cells can cause cancer-associated fibroblasts to promote chemotherapy resistance of cancer cells through a novel paracrine signaling loop.

Meet Our Team
---
Learn more about the scientists, faculty members, investigators and other healthcare professionals of the Bhowmick Laboratory, whose dedicated efforts lead to groundbreaking discoveries.

Haldar S, Mishra R, Billet S, Thiruvalluvan M, Placencio-Hickok V, Madhav A, Duong F, Angara B, Agarwal P, Gottlieb R, Tighiouart M, Posadas EM, Bhowmick NA.
Proc Natl Acad Sci U S A. 2020 Apr 14;117(15):8515-8523.
Mishra R, Haldar S, Placencio-Hickok V, Madhav A, Rohena-Rivera K, Agarwal P, Duong F, Angara B, Tripathi M, Liu Z, Gottlieb RA, Posadas EM, Wagner S, Bhowmick NA.
J Clin Invest. 2018 Oct 1;128(10):4472-4484.
Kiskowski MA, Jackson RS II, Banerjee J, Li X, Kang M, Iturregui JM, Franco OE, Hayward SW, Bhowmick NA.
Cancer Res. 2011 May 15;71(10):3459-70.
Boomershine CS, Chamberlain A, Kendall P, Afshar-Sharif A-R, Huang H, Washington MK, Lawson WE, Thomas JW, Blackwell TS, Bhowmick NA. 
Gut. 2009 Sep;58(9):1267-74.