Cedars-Sinai provides virtually every known gastroenterologic analytical procedure and treatment for digestive diseases and disorders. The Bilsborough Laboratory's integrated approach to identifying the factors driving intestinal disease benefits from the resources available at Cedars-Sinai, including inpatient and outpatient programs, state-of-the-art technology, specialized and internationally renowned physicians and a large body of research.
The Bilsborough Laboratory applies this integrated approach in our research into inflammatory bowel disease and other digestive diseases to discover and develop new therapeutics that can improve the lives of millions across the world. The research scientists and clinicians at the Bilsborough Lab are dedicated to a "bench to bedside" approach, moving discoveries out of laboratories and into effective treatments for patients with digestive diseases.
Research in the Bilsborough Lab seeks to personalize drug development and ensure that each patient receives the therapeutic treatment most suited to his or her disease. In doing so, we seek to accelerate the drug discovery process and help put new and effective therapeutic drugs on the market. The Bilsborough Laboratory is affiliated with the Digestive Diseases Center and F. Widjaja Foundation Inflammatory Bowel and Immunobiology Research Institute.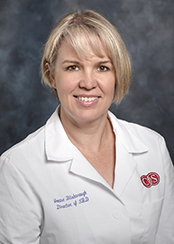 I was recruited to Cedars-Sinai to direct the Inflammatory Bowel Diseases Drug Discovery and Development (IBD3) unit for the Inflammatory Bowel and Immunobiology Research Institute. IBD3 is a unique concept by design, in which an industry-caliber target discovery and development unit is integrated with an academic research program to accelerate the pace at which scientific findings are brought to bear on patient care."
---
Janine Bilsborough, PhD
The Bilsborough Laboratory's Inflammatory Bowel Diseases Drug Discovery and Development unit is composed of research scientists and clinicians with experience in both the biopharmaceutical industry and clinical research.
Meet Our Team
---
Learn more about the scientists, faculty members, investigators and other healthcare professionals of the Bilsborough Laboratory, whose dedicated efforts lead to groundbreaking discoveries.

Bilsborough J, Fiorino MF, Henkle BW.

Expert Opin Drug Discov. 2021 May;16(5):567-577.

Potdar AA, Dube S, Naito T, Li K, Botwin G, Haritunians T, Li D, Casero D, Yang S, Bilsborough J, et al.

Gastroenterology. 2021 Feb;160(3):809-822.

Potdar AA, Li D, Haritunians T, VanDussen KL, Fiorino MF, Liu TC, Stappenbeck TS, Fleshner P, Targan SR, McGovern DPB, Bilsborough J.

J Crohns Colitis. 2019 Aug 14;13(8):1055-1066.

Gonsky R, Fleshner P, Deem RL, Biener-Ramanujan E, Li D, Potdar AA, Bilsborough J, Yang S, McGovern DPB, Targan SR.

Gastroenterology. 2017 Jul;153(1):219-232.

Contact the Bilsborough Lab
8693 Wilshire Blvd.,
Second floor
Beverly Hills, CA 90211