The primary focus of the Butte Laboratory is translational research in the field of biophotonics. The Butte Lab is developing novel intraoperative imaging/visualization technologies to aid surgeons in achieving near-complete tumor excision. The Lab is working on two technologies to accomplish this goal: first, exploring the technique of time-resolved laser induced fluorescence spectroscopy (TR-LIFS) for delineation of primary brain tumors in near real-time and, second, developing a novel near-infrared (NIR) imaging system for visualizing tumors tagged with a unique marker, which is used to make them glow during surgery.
The Butte Laboratory is affiliated with the Department of Neurology and Department of Neurosurgery..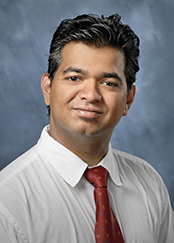 I am a research scientist in the Department of Neurosurgery at Cedars-Sinai. I hold a doctorate from the Department of Biomedical Engineering at the University of Southern California as well as a medicinae baccalaureus, baccalaureus chirurgiae (MD equivalent) from India. As a principal investigator, I manage a team including both neurosurgeons and engineers."
---
Pramod Butte, PhD
Intraoperative imaging research is based out of the Butte Laboratory and focuses on two unique projects exclusive to Cedars-Sinai: time-resolved laser-induced fluorescence spectroscopy (TR-LIFS) and the synchronized infrared imaging system (SIRIS).

Meet Our Team
---
Learn more about the scientists, faculty members, investigators and other healthcare professionals of the Butte Laboratory, whose dedicated efforts lead to groundbreaking discoveries.
Butte PV, Mamelak A, Parrish-Novak J, Drazin D, Shweikeh F, Gangalum PR, Chesnokova A, Ljubimova JY, Black K.
Neurosurg Focus. 2014 Feb;36(2):E1.
Butte PV, Mamelak AN, Nuno M, Bannykh SI, Black KL, Marcu L.
Neuroimage. 2011 Jan;54 Suppl 1:S125-S135.
Butte PV, Fang Q, Jo JA, Yong WH, Pikul BK, Black KL, Marcu L.

J Biomed Opt. 2010 Mar-Apr;15 (2):027008.
Contact the Butte Lab
127 S. San Vicente Blvd.
Advanced Health Sciences Pavilion, A-8224
Los Angeles, CA 90048