The depth and breadth of the information generated by modern high-throughput technologies has promoted the integration of data-mining computational methods into everyday basic and clinical research. These so-called omics technologies can detect and quantify a diverse array of biomolecules and their modifications. The Casero Laboratory develops and applies computational methods for the analyses of high-throughput multi-omics data. We aim to bridge the gap between traditional approaches—where one type of omics data provides a snapshot into potential disease biomarkers—and current multi-omics efforts that can provide information into the actual drivers of disease.
The Casero Lab is particularly interested in the establishment and maintenance of normal tissue homeostasis, supported by molecular interactions between members of the tissue microenvironment (e.g., epithelial, mesenchymal and immune cells) and additional factors (e.g., signals from microbial cells). A proper understanding of these interactions is instrumental to gain insights into the etiology of some complex diseases. With the help of our collaborators, the Casero Lab is harnessing the power of multi-omics libraries to generate novel data-driven hypothesis that can pave the way into future mechanistic and translational studies.
The Casero Laboratory is affiliated with the Cedars-Sinai Inflammatory Bowel and Immunobiology Research Institute and Department of Biomedical Sciences.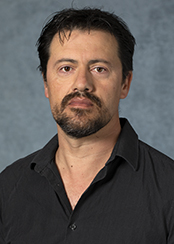 Personal Statement
Casero Lab is diving into a new area of biomedical research. There is an increasing demand for scientists with different backgrounds to combine their expertise and integrate efforts in the search for new treatments. Keeping with the Cedars-Sinai tradition, the faculty at the Inflammatory Bowel and Immunobiology Research Institute has a longstanding commitment to advance molecular discoveries to the clinic. Their decadeslong effort on caring and screening inflammatory bowel disease (IBD) patients has resulted in an invaluable resource for future translational discoveries. As director of translational multi-omics, my goal is to foster new data-driven synergies and support and streamline the discovery of novel therapeutic approaches."
---
David Casero, PhD
Implementation of multi-omics data integration pipelines (genomics, transcriptomics, proteomics, metabolomics and microbial genomics libraries) to identify pathogenic (causative) factors in IBD
Integration of single-cell, whole-tissue and tissue organoid gene expression profiles for the identification of intrinsic (cell-specific), relational (controlled by the microenvironment) or systemic (tissue-specific) molecular signatures in stem and immune cell biology 
The role of non-coding RNAs on tissue homeostasis and disease pathogenesis
Meet Our Team
---
Learn more about the scientists, faculty members, investigators and other healthcare professionals of the Casero Laboratory, whose dedicated efforts lead to groundbreaking discoveries.
Job Openings
---
The Casero Laboratory has open positions for Bioinformatics and Computational Biology postdoctoral fellows to work on a number of ongoing projects—cross-talk between different cell types advancing tissue homeostasis and regeneration, discovery and single-cell characterization of novel non-coding RNAs, and the integration of non-coding RNA expression signatures into genetic association analyses. To apply for a position with the Casero Lab, please send a description of your interests together with your curriculum vitae to david.casero@cshs.org or apply online for one of the positions below.
Montel-Hagen A, Seet CS, Li S, Chick B, Zhu Y, Chang P, Tsai S, Sun V, Lopez S, Chen HC, He C, Chin CJ, Casero D, Crooks GM.

Cell Stem Cell. 2019 Mar 7;24(3):376-389.
Casero D, Gill K, Sridharan V, Koturbash I, Nelson G, Hauer-Jensen M, Boerma M, Braun J, Cheema AK.

Microbiome. 2017 Aug 18;5(1):105.
Casero D, Sandoval S, Seet CS, Scholes J, Zhu Y, Ha VL, Luong A, Parekh C, Crooks GM.

Nat Immunol. 2015 Dec;16(12):1282-1291.
Lloyd-Price J, Arze C, Ananthakrishnan AN, Schirmer M, Avila-Pacheco J, Poon TW, Andrews E, Ajami NJ, Bonham KS, Brislawn CJ, Casero D, et al.

Nature. 2019 May;569(7758):655-662.